CJC Students Honored at 2019 PRNDI Awards
WUFT-FM student journalists received first and second place awards at the Public Radio News Directors Incorporated (PRNDI) 2019 Awards ceremony on June 15 in Washington, D.C. The public radio station, an affiliate of NPR, is located at the University of Florida College of Journalism and Communications.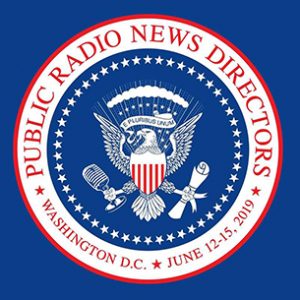 The PRNDI awards are the only national contest recognizing outstanding reporting, editing, anchoring and news production at local public media stations.
Winners in the professional division include:
Best Multimedia Presentation: First Place, "Life After Maria"
Best Multimedia Presentation: Second Place, "Silenced"
Winners in the student division include:
Best Student Radio Newscast: First Place, Raymon Troncoso, B.S. Telecommunication 2019, and Telecommunication senior Henry Coburn, "WUFT-FM Newscast Nov. 7, 2018"
Best Student Soft Feature: First Place, Sofia Milla, B.S. Telecommunication, "Haircuts for Autism"
In addition, Troncoso was one of three students selected by the PRNDI board to attend the conference for free to be a member of the press corps. Troncoso was chosen for his essay addressing "what public radio means to me."
Posted: June 17, 2019
Category: Alumni News, College News, Student News
Tagged as: PRNDI Awards Competition