Pulitzer Prize Winner Sara Ganim Joins UF Brechner Center for Freedom of Information
The Brechner Center for Freedom of Information announced today that Pulitzer Prize-winning journalist and former CNN correspondent Sara Ganim will join the Center on July 1 as its first Hearst Journalism Fellow.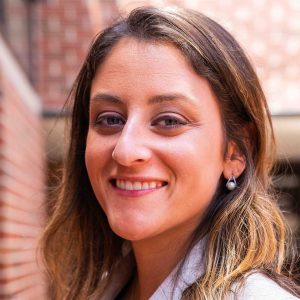 In April, the Brechner Center, which is housed at the University of Florida College of Journalism and Communications (UFCJC), announced a grant from the Hearst Foundations for the Hearst Data Deserts Project. The project is intended to improve the quality of civic data by spotlighting the deficiencies in information-gathering and by developing public-policy solutions. The grant includes funding for two visiting fellows for one-year engagements.
As part of the fellowship, Ganim will be helping UFCJC students develop investigative reporting projects about lapses in government data-gathering that deprive the public of civically essential information.
"We're incredibly excited to give UF journalism students the benefit of mentorship and guidance from a journalist of Sara Ganim's nationally acclaimed expertise," said Frank LoMonte, UFCJC Journalism professor and Brechner Center director. "Sara is deeply committed to training the next generation of journalists in the best reporting practices, and she will strengthen the College's already deep lineup of faculty talent in investigative and data journalism."
Ganim added that, "It's as important as ever to teach future journalists the power and importance of essential journalism, and to showcase the work that they do in a way that has an impact. That's something I believe in, and it's the goal of this grant, and that's why I'm so excited to be a part of it."
In 2012, Ganim, then a reporter for the Patriot-News in Harrisburg, Pennsylvania, won the Pulitzer Prize for Local Reporting for her coverage of the Jerry Sandusky-Penn State scandal. At 24, she was the third-youngest person to win a Pulitzer. She also won the 2011 George Polk Award in Journalism for the story and the Patriot-News received the Scripps Howard Award for Community Journalism.  That same year, Newsweek magazine named Ganim one of "150 Women Who Shake the World."
Ganim left the Patriot-News in 2012 to join CNN and in 2015 received the Sigma Delta Chi Award from the Society of Professional Journalists for a story claiming that some student-athletes at NCAA Division I member colleges and universities read at a third-grade level or below.
In 2012, she also was recognized by the Associated Press Managing Editors Association for her work with student journalists. She has taught college-level journalism and spends several days each year speaking to college and high school journalists about the profession of journalism and the transition from print to broadcast.
She recently left CNN to work on a book and documentary film project.
Posted: June 11, 2019
Category: College News
Tagged as: Brechner Center for Freedom of Information, Hearst Data Deserts Project, Sara Ganim