CJC Students Honored in 2018-2019 Hearst Journalism Awards National Championships
Two University of Florida College of Journalism and Communications (UFCJC) student journalists have received top honors in the 2018-19  Hearst Journalism Awards National Championships. Telecommunication senior Dolores Hinckley and Telecommunication junior David Jones received first place in the Radio Broadcast News and Television Broadcast News Championships, respectively. Each will receive a $10,000 award from Hearst.
This is the third year in a row that a UFCJC student has placed first in the TV competition.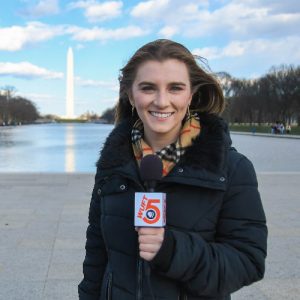 From June 1 through June 5, 29 finalists – all winners from the Hearst Intercollegiate competitions – participated in the 59th annual Hearst Championships in San Francisco where they demonstrated their writing, photography, radio, television and multimedia skills in rigorous on-the-spot assignments.  The assignments were chosen by media professionals who judged the finalists' work throughout the year and at the Championships.
In the Radio competition, finalists were tasked with creating a story on immigration in the Bay Area. Hinckley produced a story on Soccer Without Borders, an organization that aims to build a more inclusive world through soccer and to provide underserved youth a toolkit to overcome obstacles to growth, inclusion and personal success.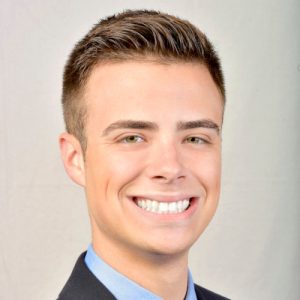 In the Television competition, finalists produced stories on climate change and global warming. Jones shared the story of a man's quest to remain environmentally friendly even after he passed away. He highlighted the green cemetery he was buried at and how traditional embalming chemicals can harm the soil and air.
Three students were also chosen as national finalists. Grace King, B.S. Telecommunication 2019, and Meredith Sheldon, B.S. Telecommunication 2019, were recognized in the Television Broadcast News Championship, and Journalism senior Mackenzie Behm in the Multimedia Championship. They will each will receive $1,500 scholarships.
The Hearst Championships are the culmination of the 2018 – 2019 Journalism Awards Program, in which 104 member universities with undergraduate journalism programs accredited by the Accrediting Council on Education in Journalism and Mass Communication participated.
In the Intercollegiate Competition, UFCJC placed fourth overall, including first place in Broadcast News and fifth place in Multimedia.
The 2018-2019 UFCJC individual awards include:
1st Place: Ethan Bauer, B.S. Journalism 2018, (Writing), David Jones (TV News II), Grace King (TV Features)
2nd Place: Mackenzie Behm (Multimedia II)
3rd Place: Mary Grace Scully, B.S. Telecommunication 2019, (TV News)
4th Place: Delores Hinckley, (Radio), Meredith Sheldon (TV Features)
6th Place: Mackenzie Behm (Multimedia I)
9th Place: Cat Gloria, B.S. Journalism 2019, (Multimedia II), Multimedia IV-Team Reporting/News
The Hearst Journalism Awards Program was founded in 1960 to foster journalism education through scholarships for outstanding college students.  Since its inception, the program has distributed more than $13 million in scholarships and grants for the very best work by student journalists.
Posted: June 6, 2019
Category: Alumni News, College News, Student News
Tagged as: 2018-2019 Hearst Journalism Awards