CJC Wins 2018-19 Hearst Journalism Awards Intercollegiate Broadcast Competition
The University of Florida College of Journalism and Communications (UFCJC) has won the 2018-19 Hearst Journalism Awards Intercollegiate Broadcast competition. UFCJC had the highest accumulated points from the radio and television competitions.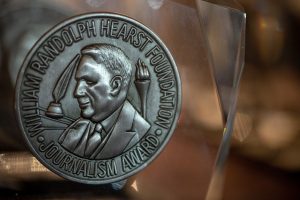 Contributing to the point total was the first-place finish for Telecommunication seniors David Jones in Television News and Grace King in the Television Features category. Jones and King have automatically qualified to compete in the National Championships in San Francisco in June.
In addition, three CJC Telecommunication seniors were honored as semi-finalists. Mary Grace Scully received third place in Television News and Meredith Sheldon and Delores Hinckley won fourth place in the Television Features and Radio categories, respectively. The students will submit additional entries for a semi-final round of judging. Finalists from this round of judging will qualify to compete in the National Championship.
The Hearst program holds year-long competitions for journalism undergraduates in writing, photojournalism, broadcast news and multimedia. Journalism schools accumulating the most points earned by their students in each category are designated the winners of the Intercollegiate Competitions. Following UFCJC in Intercollegiate Broadcast Competition were Arizona State University; University of North Carolina at Chapel Hill; University of Missouri; Pennsylvania State University; Syracuse University; University of Maryland; University of Texas, Austin; Elon University; and the University of Nevada-Reno.
Posted: March 29, 2019
Category: College News, Student News
Tagged as: 2018-19 Hearst Journalism Awards, David Jones, Delores Hinckley, Grace King, Mary Grace Scully, Meredith Sheldon