IN MEMORIAM: Stuart Newman
Stuart Newman, B.S. Journalism 1946 and 1994 Hall of Fame inductee and one of the University of Florida College of Journalism and Communications' oldest living alumnus, passed away on March 24 in Miami. He was 96.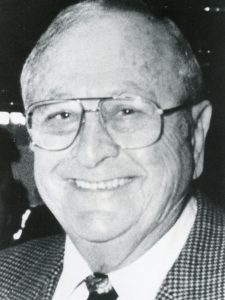 Newman joined the Air Force in 1943 while still a University of Florida student. As a bombardier and navigator, he saw his share of battle in World War II, fending off Nazi anti-aircraft gunners and surviving a crash. In 1946, after the Air Force and graduation, he founded Stuart Newman Associates, now known as NewmanPR. The Miami-based public relations firm continues to thrive after 70 years in business and focuses on clients in the hospitality industry. Newman's storied career included promotion of Florida Keys tourism and Carnival Cruise Line.
Throughout his career, Newman never forgot his Gator roots. He often visited the CJC and funded a scholarship for students over the last 30 years.
CJC Dean Diane McFarlin told The Miami Herald, "he wanted to be sure that students had the same opportunities that he did. He was regularly in conversations with me about the college, what was happening here, what we needed."
Newman was the first in a long legacy of Gators. Son Andy Newman, who  joined his father's firm in August 1980 and is now senior vice president, graduated from CJC with a B.S. in Advertising in 1977. His daughter-in-law Maria Newman graduated from the College in 1976 with a B.S. Degree in Advertising.
Andy and Maria Newman's older son Alan Newman graduated in 2007 with a B.A. in Political Science, and their youngest son Michael graduated in 2011 with a B.A. in Philosophy, a J.D. degree in 2014, and LL.M. in Taxation in 2015.
In lieu of flowers, the family requests that you honor Stuart Newman via a scholarship fund for public relations students at the University of Florida. Checks can be made payable to the UF Foundation, P.O. Box 14425, Gainesville, Fl. 32604. Or contributions can be made to the Florida Keys Soldier Ride. Make checks payable to the Military Affairs Committee, P.O. Box 2519 , Key West, FL 33045. For both, please note "Stuart Newman Memorial" in the memo area.
Posted: March 26, 2019
Category: Alumni News, College News
Tagged as: 1994 Hall of Fame, NewmanPR, Stuart Newman