STUDENT: Mackenzie Behm's Passion for Journalism Helps Her Overcome Family Crisis
By Tracy Wright, B.S. Public Relations 1999
In her young life, Journalism junior Mackenzie Behm has already been through a lifetime of adversity, triumph and success. Growing up in an abusive household, the one thing she maintains is that she does not allow her setbacks to define her. Rather, she has felt that it has compelled her to be who she is today. A determined and hard-working student, Behm has already served as an editor for two national student news outlets, even landing a summer internship with the online publications in New York City.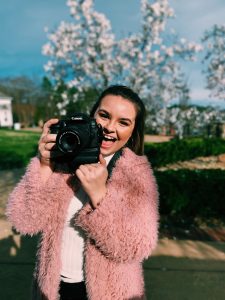 Growing up in Plantation, Florida, with her parents, brother and sister, she was victim of abuse at the hands of her father. She credits journalism and the media for informing her that what she was experiencing was wrong.
"Like many victims, I didn't know what was happening to me was not wrong," Behm said. "It was media that exposed me to what was right and wrong, and it was media who brought justice by directing attention to overlooked issues. While abuse is an obstacle I faced, my love for journalism, as a result, came to influence what I wanted to do."
Behm's first introduction to journalism was coincidental. She had always loved writing, but she was accidentally placed in her high school's journalism class and she fell in love. Eventually becoming editor-in-chief, she taught herself InDesign and how to put the paper together. It was this drive and motivation that helped to "save" Behm from going down a bad path that many victims of abuse experience.
"Statistically, I am not supposed to be where I am today. But if someone tells me that I'm not going to do something, I try even harder. I never wanted to go down that path," Behm said. "Becoming so involved with journalism and writing allowed me to escape."
Behm's father was arrested in 2008 for domestic violence and child abuse. She, her mother and her siblings were left homeless. Her family was put on a waiting list for a space at a homeless shelter, but a spot never came available. They ended up staying in-and-out of friend's living room floors and in extended-stay hotel rooms.
These events, coupled with an ugly custody battle where Behm had to testify against her father, made it a very difficult time for her family.
"It's my story but I don't live by it. It's helped to make me a better journalist and storyteller. I can sympathize with people and their struggles."
After high school, Behm was accepted to the University of Florida, where she took the initiative to find ways to write for any news outlet she could. She began writing for The Tab (student news reporting) and Spoon University (an outlet similar to Buzzfeed's Tasty geared to college students).
"I picked up every news pitch, broke some huge stories and eventually applied for and won an internship with The Tab and its sister publication Babe in New York City the summer of my freshman year," Behm said. "It was such an amazing experience. I was supported by a stipend and it was definitely a dream come true."
When she returned from New York, she became editor of The Tab UF and recruited and managed a staff of 30 writers. One of the biggest stories she broke concerned leaked tapes from a UF sorority which seemed to show evidence of hazing and racist remarks. As she investigated, she was faced with both negative reaction from some and private encouragement from members who had witnessed or experienced this behavior. Although a very challenging experience, Behm learned a lot from her Tab supervisors and by consulting with various journalism professors.
"The story was incredibly delicate, and it was the first time I was truly challenged as a journalist legally and ethically," Behm said. "I went to multiple journalism professors for guidance, and had various conferences with The Tab US staff who had a lawyer review the piece before release. While this may seem tedious, it was incredibly exciting to dedicate myself to a piece that eventually had such an enormous impact on campus."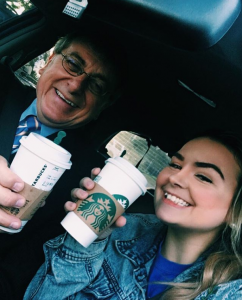 Behm became the first multimedia editor of The Independent Alligator, producing popular videos like "Gators in Cars Getting Coffee with UF President Kent Fuchs" and documentary features such as "A Parkland Student's First Week at UF."
Behm enjoys journalism because of the various opportunities it provides. In addition to the serious investigative story she wrote, she also was delighted to write a fun piece for Spoon University —  "The Scientific Reason Why Pineapples Belong on Pizza" — that has now been viewed more than 70,000 times and was picked up by a national outlet.
She credits the support she has received from the journalism school as a key reason she has been able to do so much and have so many opportunities.
"This school is amazing. I have had so many people who are on my team. So many of my professors have been really supportive of me and really want me to succeed. In addition, with the scholarship I received, I was able to focus not on how I'm going to eat or afford rent but how I'm going to tell great stories," Behm said.
This school year, she placed second in the Hearst Journalism Awards Multimedia News category and first in the SPJ Mark of Excellence Region 3 for both Best Use of Multimedia and Online/Digital Videography.
In addition to her internship, she has had the opportunity to study abroad in France and was selected to visit The Washington Post offices during the election and work with Instagram, "all of which was a dream."  This summer, she will be a digital intern at the Atlanta Journal-Constitution.
"I want to produce strong character-driven narratives. A challenge in my field I've discovered is getting people to trust the media. I think people shy away from speaking up about serious issues. As a journalist you dually have to be very caring and have social skills. I've gotten a lot from sources just by treating them as humans. I
"The sky is the limit for the future," Behm said. "I do not let my past define what I can do."
Posted: March 21, 2019
Category: Profiles, Student Profiles