WUFT and the Florida Public Radio Emergency Network Receive CPB Community Lifeline Award
WUFT-TV/FM and the Florida Public Radio Emergency Network (FPREN) today were honored with the Corporation for Public Broadcasting (CPB) Community Lifeline Award for providing extensive coverage and non-stop emergency information during Hurricanes Michael, Irma and Matthew.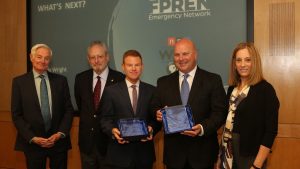 The Community Lifeline Award recognizes public media stations that provide outstanding service to their communities during local emergencies, natural disasters and other urgent situations. Established in 2012, this is only the second time it has been presented.
"Public media's services are especially important for communities affected by natural disasters and other emergencies," said CPB Board member Elizabeth Sembler. "Under the leadership of WUFT, FPREN provided lifesaving information not only across Florida but also in North and South Carolina. The innovative approach demonstrated by these partner stations exemplifies both the spirit of public service and the powerful role of public media."
The WUFT and FPREN studios, located in the University of Florida College of Journalism and Communications, served millions of people during these severe weather emergencies. Information updates were accessible on-air, online and through the Florida Storms phone app.
"We're honored by this recognition from CPB for what we feel is a core mission of public media," said Randy Wright, executive director of WUFT and FPREN. "We appreciate the ongoing support of CPB, [CPB President and CEO] Pat Harrison and the [CPB] Board for their encouragement of innovative concepts like FPREN and look forward to providing these public safety services to even more Americans in the future.".
FPREN, a collaboration of 13 public radio stations based at WUFT in Gainesville, Florida, delivers emergency broadcast and social media content across the state. The free Florida Storms app provides geotargeted live forecasts, information about evacuation routes and shelters, and live streams local public radio broadcasts.
Posted: March 19, 2019
Category: College News
Tagged as: CPB Community Lifeline Award, FPREN, Jeff Huffman, Randy Wright, WUFT