CJC Students Honored at 2018 SPJ Region 3 Mark of Excellence Competition
University of Florida College of Journalism and Communications (UFCJC) students were honored in the 2018 Society of Professional Journalists Region 3 Mark of Excellence Awards (MOE) competition. Students were recognized for their work on radio, television, print and online by professional judges with at least three years of journalism experience.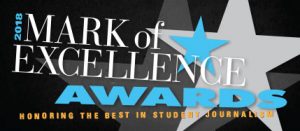 UFCJC received 24 awards in the Region 3 competition. Region 3 is comprised of Alabama, Florida, Georgia, South Carolina, Puerto Rico and the U.S. Virgin Islands. First place winners will now compete with other winners from all 12 SPJ regions. These winners will be announced at the national convention in San Antonio, Texas in Sept. 2019.
Honorees include:
Radio:
Best All-Around Radio Newscast: Winner, by Henry Coburn and Raymon Troncoso, "November 7, 2018 Newscast"
In-Depth Coverage: Winner, WUFT Staff, "Hurricane Michael"
In-Depth Coverage: Finalist, WUFT Staff, "Deputy Sheriffs Killed"
Radio Feature: Winner, Alexa Lorenzo, "A Problem with Pythons"
Radio Sports Reporting: Winner: Meredith Sheldon, "Overcoming Adversity Through Archery"

Television:
Best All-Around Television Newscast: Finalist, WUFT News, "WUFT News First at Five"
Best All-Around TV News Magazine: Winner, WUFT/Noticias Staff, "Life After Maria"
Breaking News Reporting: Winner, WUFT News, "Hurricane Michael"
General News Reporting: Winner, Clarisa Melendez, "Medical Marijuana Businesses Booming in Florida"
Feature Reporting: Winner, Meredith Sheldon, "Overcoming Adversity Through Archery"
In-Depth Reporting: Finalist, WUFT Staff, "Silenced: 1.5 Million Florida Felons Without a Vote"
Online:
News Reporting: Winner, Cat Gloria, "A Florida Fiasco"
News Reporting: Finalist, Amy Nelson, "Pulled Over in Florida? Don't Expect the Same Traffic Stop Every Time"
In-Depth Reporting: Winner, Fall 2018 Environmental Journalism class and WUFT.org Staff, "Peak Florida"
Best Use of Multimedia: Winner, Mackenzie Behm, "After Michael's Fury, An Angel Saves the Forgotten in a Florida Tent City"
Art/Graphics:
Breaking News Photography (Large) 10,000+ Students: Finalist, Marcelo Rondon, "Election Results"
Feature Photography (Large) 10,000+ Students: Winner, Kaitlin Hall, "Concern Feeds Her Passion"
Feature Photography (Large) 10,000+ Students: Finalist, Kaitlin Hall, "A Fight for Power"
General News Photography (Large) 10,000+ Students: Winner, Claudia Perez-Brito, "Herculean Task, Little Help"

Videography:
Broadcast News Videography, Finalist, Alexa Lorenzo, "Python Elimination Program"
Broadcast News Videography, Finalist, Meredith Sheldon, "The Archer"
Online/Digital Feature Videography: Winner, Mackenzie Behm "Florida Voices | Brad Kendell, Sailing Forward"
Online/Digital Feature Videography: Finalist, Mackenzie Behm and Emily Netburn, "Florida Voices | Carlton "Blixx" Barber, the Tiny Terror"
Magazines:
Non-Fiction Magazine Article: Winner, Molly Minta, "Casting Shadows"
Posted: March 12, 2019
Category: College News, Student News
Tagged as: 2018 SPJ Region 3 Mark of Excellence Awards