Diane McFarlin Wins Prestigious 2018 Scripps Howard Award
Diane McFarlin, dean of the University of Florida College of Journalism and Communications (UFCJC), is the recipient of the 2018 Scripps Howard Administrator of the Year Award.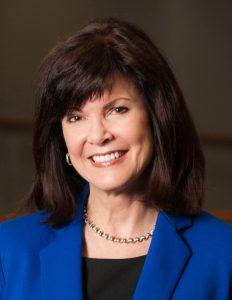 The national award showcases excellence in the administration of a journalism and communication program. McFarlin, B.S. Journalism 1976 and 1999 Hall of Fame inductee, was recognized for her vision, leadership and creativity during her six-year tenure at UFCJC. The award will be presented at the 66th annual Scripps Howard Awards show on April 18 in Cincinnati, Ohio. The event will be streamed live on YouTube and Facebook and rebroadcast on April 21 on Newsy.
"The E.W. Scripps Company congratulates the journalists and news organizations honored as this year's best of the best," said Adam Symson, Scripps president and CEO. "The Scripps Howard Awards winners serve as another example of the critical role the free press plays as a check on our democracy."
The Scripps Howard Foundation supports philanthropic causes important to The E.W. Scripps Company and the communities it serves, with a special emphasis on excellence in journalism. At the crossroads of the classroom and the newsroom, the Foundation is a leader in supporting journalism education, scholarships, internships, minority recruitment and development, literacy and First Amendment causes. The Scripps Howard Awards stand as one of the industry's top honors for outstanding journalism.
Posted: March 5, 2019
Category: Alumni News, College News
Tagged as: Diane McFarlin, Scripps Howard Awards