CJC Students Cover Florida Law Requiring Protection for Students
Update (Feb. 13, 2019) — Katherine Campione was interviewed about this story on the Feb. 12, 2019 broadcast of NPR's "All Things Considered."
---
University of Florida College of Journalism and Communications (UFCJC) Journalism seniors Katherine Campione and Christina Morales and CJC alumnus, Vincent McDonald, B.S. Journalism 2018, are the authors of "These School Districts Tried to Arm Coaches. It's Harder Than It Sounds," published in the Tampa Bay Times on Jan. 12.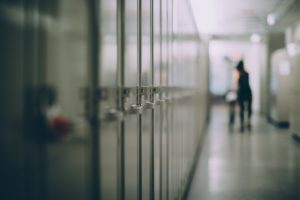 The article focuses on a new law requiring all Florida schools to have a law enforcement officer or guardian on campus by the beginning of the 2018-19 academic year. Recruitment and funding issues for the program have delayed implementation.
The authors were part of a UFCJC Data Journalism class taught by Times Deputy Investigations Editor Kathleen McGrory and Times Director of Data and Digital Enterprise Adam Playford, tasked with researching the issue.
They reviewed news clips from around the state and reached out to many of the school districts that opted to use guardians in their traditional schools. They found that more than one-third of the 24 districts had problems in the program's first few months.
The article gives an account of county efforts to comply with the law and the difficulty with the high standards set for successful implementation.
Posted: February 13, 2019
Category: College News, Student News
Tagged as: Christina Morales, Katherine Campione, Tampa Bay Times, Vincent McDonald