ALUMNI: From PR to Law School, Roberta Roberts Lives to Help, Serve Others
By Lenore Devore, B.S. Journalism 1984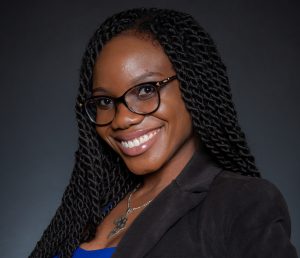 As a young girl, Roberta Oluwaseun Roberts, B.S. Public Relations 2012, loved writing and speaking. She started writing a book, then put that on hold — but fully plans to return to it one day. She had more pressing matters ahead of her.
As she prepared to graduate from Miami Beach Senior High School in 2008, she was offered a scholarship to the University of Florida through the Machen Florida Opportunity Scholars Program. The scholarship is given to first-generation college students whose family makes less than $40,000 a year, and the University pays any unmet financial needs. Roberts, whose family came from Nigeria, was thrilled.
"I was extremely blessed and thankful to have the opportunity to not only attend a top university, but attend debt free," the 28-year-old says. "I'm always going to bleed orange and blue."
Now a lawyer at the U.S. Department of Justice Executive Office of Immigration Review and a life coach with a Christian bent, Roberts started her college days as a public relations major in the University of Florida College of Journalism and Communications. After "preparing" for 18 years, she knew that's what she wanted to do.
"I competed in oratory competitions and written speech competitions in elementary and middle school. I liked the idea of being able to go into a career where I would be able to do a lot of writing, but also public speaking and interacting with other people — telling a story, crafting a message," she says. But she also has an analytical brain and enjoys strategic planning and researching, especially when putting together a public campaign.
She always planned to go into public relations after graduation — until she started working as an editorial assistant in the Levin College of Law, writing articles for the UF law magazine. "I got to know what lawyers are really like. Up until that point I had never met a lawyer. I went off what I saw on TV — lawyers were kind of sleazy and just represented the big guy. … I didn't have a very accurate opinion of lawyers."
She realized lawyers were so much more, and they didn't all work for big corporations. "I had actually just interviewed a lawyer who had helped with a case against immigrant tenants in a building who were being discriminated against. He was able to use being a lawyer to help get these people justice," she says. "That really spoke to me. My desire to write, speak, analyze, strategic plans, help people — I could do all of that as a lawyer. All the things that attracted me to PR go hand in hand with the legal profession."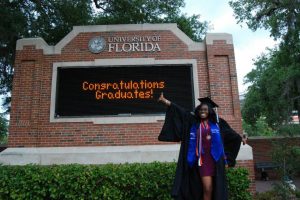 Her time at CJC prepared her well. She learned the importance of having initiative and following through, she says, mostly from Professor Deanna Pelfrey, who had a reputation for being extremely tough. She sought out her International Public Relations and PR Writing classes.
"I like a challenge," Roberts says. "I wanted to be good. I took classes with her on purpose. I felt like I'm going to college on other people's money — people invested in me. I figured this degree wasn't just for me. I needed to be the best I could be."
She said Pelfrey taught real-world applications, much of which still apply today. Her writing improved, and she became an account executive in Alpha PRoductions, the College's student-run public relations firm, where Pelfrey was the adviser and STEM Florida and UF's University Relations were her client. She also was on the 2011-12 Bateman National Case Study Competition team that won second place in the nation, designing the "Giggle in Gear" childhood obesity campaign for United Way Worldwide.
She hopes "Giggle in Gear" — to be healthy, happy and have fun — will be her legacy at UF. The campaign required her to think outside the box. She partnered with the College of Medicine to host its mobile checkup unit and some farmers' market vendors in a low-income housing community by Oaks Mall.
"The farmers accepted EBT so people could get fresh food. There was a food desert, so they didn't have access to fresh food. We took the initiative and did something that hadn't been done before," says Roberts, who was inducted into the UF Hall of Fame in 2012, the year she graduated magna cum laude.
Roberts earned a certificate in public affairs and credits Law School Adjunct Professor Samuel Stafford for teaching her to be good at your craft. He helped her with her applications to law school, she says. Now, she thinks she may want to follow in the footsteps of Stafford, a judge in Gainesville, and become an immigration judge.
While interning in immigration litigation with the Department of Justice (DOJ), she found opportunities abound to help people. Refugee and asylum law fit her interests and require a lot of thinking, she said. "It never gets boring. There are a lot of people's stories. I'm grateful to serve the public, humanity at large, especially as a first-generation American."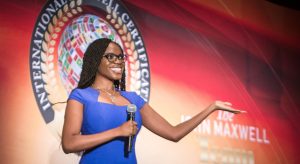 As an attorney adviser at Arlington Immigration Court, she works in the office of the chief immigration judge. Through the Attorney General's Honors Program at the DOJ, she immediately started working in Immigration Court as a judicial law clerk after graduation from George Washington University with a law degree in 2015. In that role, she did research for judges, wrote memoranda, analyzed legal issues, reviewed evidence, and drafted decisions for judges. Now, as an adviser, she does all that and supervises legal interns, conducts interviews for the Honors Program and gives presentations on legal issues.
She passed the Maryland and Washington, D.C., Bar exams on the first try, and became certified as a coach, trainer and speaker with the John Maxwell Team, a professional training and coaching firm. She wears her life-coaching hat when she works with young female lawyers and law students as part of her business, "Grace for the Grind™ Career Mastermind," a private Christian online community. The legal profession, like the public relations profession, is stressful, she says, and has high rates of depression, alcohol abuse and the like.
"People are lacking a coping mechanism," she says. "This is a community where it's OK to be vulnerable. I wanted to be able to create a safe space. These experiences are not for you alone; you need to share them with other people."
She draws on her experiences, like working while attending college and law school, when coaching people. And she puts her Maxwell leadership certification to use. "Before you can lead other people, you have to be able to lead yourself," she says.
Roberts, who has her own coach, says she likes to listen and analyze. "I always ask a lot of questions when they come to me seeking guidance."
Coaching, she says, is helping people find the answers themselves. She likes guiding people by asking probing questions so they can look inward. "What's holding them back? What should the next step be? You can have mentoring moments — with permission. But the role of the coach is to be that objective person who doesn't have an agenda."
As a Christian woman whose faith is important to her, she feels the need to help others.
"A lot of times, when I know someone else is a Christian and they come to me for guidance, I like to encourage them with what's in the Bible, or pray with them, if they're for it. It can be uplifting when it's something that's very dear to you and it's a big part of you to get that kind of encouragement that you might not get at school, from your friends."
True to her faith, Roberts volunteers in the children's ministry and is on the board of trustees at her church, teaches Sunday school and mentors high school girls.
"It's part of my purpose in the world and the experiences I've been through — my calling to help others walk through that. There's only so much you can do in your own power, your own strength. There's always some aspect you can't control."
Posted: February 12, 2019
Category: Alumni Profiles, Profiles