UF CJC Online Master's in Web Design & Online Communication Recognized for Best Front-End Development
The University of Florida College of Journalism and Communications online Master's Degree in Web Design was ranked number three for "Best Front-End Development" by OnlineMasters.com for 2019.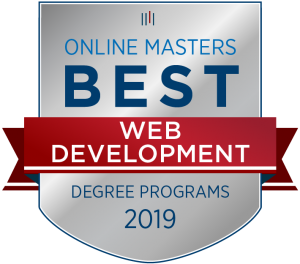 The OnlineMasters.com team of industry experts, hiring managers, current student and alumni evaluated every online master's degree program in Web Development to determine the six best programs in the U.S.
UF's online Web Design Program is designed to transform students into professional front-end developers. Students master HTML5, CSS3 and JavaScript and learn to design with Photoshop and Illustrator, developing the skills to become front-end specialists at the next level.
The online Master of Arts in Mass Communication features specializations in Audience Analytics, Political Communication, Web Design, Digital Strategy, Public Relations, Global Strategic Communications, Public Interest Communications and Social Media.
Posted: February 6, 2019
Category: College News
Tagged as: Online Master's Degree Program in Web Design, OnlineMasters.com.