CJC Alum Receives 2018 National Space Club Award
John Janokaitis, B.S. Telecommunication 1979, chief of media relations for Aerodyne Industries in Cape Canaveral, received the Kolcum News and Communications Award from the National Space Club in Oct. 2018.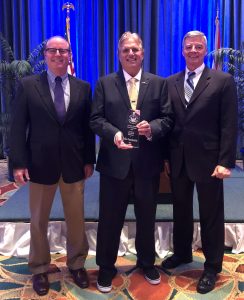 The award, named in honor of Harry Kolcum, former managing editor or Aviation Week & Space Technology, honors news media representatives and other communication professionals for excellence in covering the space industry on Florida's Space Coast and around the world.
Janokaitis' 40 year-tenure with the Kennedy Space Center has included both communications and project management responsibilities. He has an MBA in Aviation from Embry-Riddle Aeronautical University and has served as a part-time sports reporter for Florida Today (Melbourne, Florida) since 1984.
Posted: January 9, 2019
Category: Alumni News, College News
Tagged as: John Janokaitis