UFCJC Online Master's Program Recognized as One of the Country's Best
The University of Florida College of Journalism and Communications' (UFCJC) online master's program was recognized as one of the top programs in the country by several ranking services in 2018.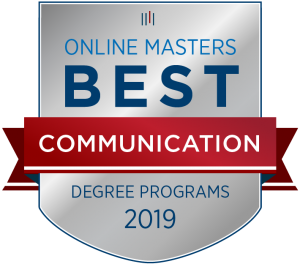 Most recently, the site Online Master's ranked the College's program as one of the top five communication degree programs and ranked the University of Florida's e-learning platform as the best in the nation.
Other rankings in 2018 included:
The Best Schools
BestColleges.com
AffordableCollegesOnline.org
The UFCJC program offers eight comprehensive, current, and digitally focused online master's specializations for students interested in completing a Master of Arts in Mass Communication graduate degree. Each master's specialization is uniquely focused and tailored to prepare students to be effective communicators and storytellers.
In addition, the program offers several graduate certificates in a variety of communications specializations. Certificate students complete a shorter term of study, generally four courses or 12 to 14 credit hours.
Posted: December 18, 2018
Category: College News