CJC Alum Boaz Dvir 's New Documentary on Michel Cojot-Goldberg to be Previewed at UF
A "rough-cut" of COJOT: A Second Chance Comes Only Once, a full-length documentary by Boaz Dvir, B.S. Journalism 1988 and M.A.M.C 2008, will be previewed at UF on Nov. 15.
Dvir is the writer, director and producer of COJOT, which   follows the life of Michel Cojot-Goldberg, a Nazi hunter, Entebbe hostage and a Klaus Barbie trial witness.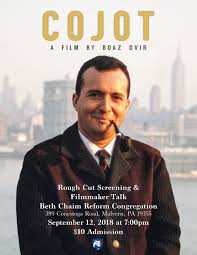 The film, developed from a project at the UF Paris Research Center and shot on location in France, the UK and the U.S., includes archival documents, animation and interviews with Cojot family members, international Nazi hunters, and an Operation Entebbe pilot.
The sneak preview, hosted by the UF Center for Jewish Studies and the Jewish Council of North Central Florida, will be on Nov. 15 at 7 p.m. in the Hippodrome Cinema. The presentation will also include trailers for the Ninth Annual Gainesville Jewish Film Festival on March 17-30, 2019 in Gainesville.
Dvir is currently a senior lecturer in journalism and film at Penn State University. Dvir's previous film, the PBS documentary A Wing and a Prayer, has been screened around the world and won Best Feature Documentary at the 2016 Fort Lauderdale International Film Festival. He also recently completed Discovering Gloria, a documentary about an African American inner-city schoolteacher who transformed into a trailblazing innovator and a national model.
Preview tickets can be reserved online at https://www.jcncf.org/events.html. Admission is $10, however students are admitted free with a valid University of Florida ID.
Posted: November 6, 2018
Category: Alumni News, College News
Tagged as: Boaz Dvir