CJC Alum and World War II Veteran Participates in Honor Flight
Stuart Newman, B.S. Journalism 1946 and 1994 Hall of Fame inductee, was featured in "Stuart Newman, 96-Year-Old World War II Veteran, Takes 'Honor Flight" published in The Miami Herald on Oct. 27.
Honor Flight of South Florida organized the free excursion from Fort Lauderdale to Washington, D.C. Newman joined other World War II veterans to visit war memorials and spend time with compatriots and family. His son, Andy Newman, B.S. Public Relations 1977 and vice president of NewmanPR, joined him on the day-long trip.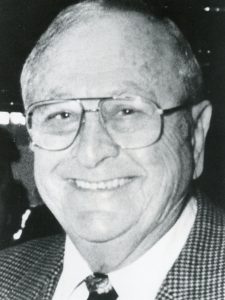 Newman joined the Air Force in 1943 while still a student at CJC. As a bombardier and navigator, he saw his share of battle in World War II, fending off Nazi anti-aircraft gunners and surviving a crash. In 1946, after the Air Force and graduation, he founded Stewart Newman & Associates, now known as NewmanPR. The Miami-based public relations firm continues to thrive after 70 years in business.
During the flight, the veterans were treated to a traditional military "mail call" and received letters from friends and family to read during the flight. Upon return to Fort Lauderdale, police, firefighters and boy and girl scouts participated in a "hero's welcome home" for the troops.
Posted: November 5, 2018
Category: Alumni News, College News
Tagged as: NewmanPR, Stuart Newman