ALUMNI: Online Master's Program Provides Roadmap for Celeste Martinez' New Journey
By Max Chesnes, Journalism senior
Celeste Martinez was running a pizza restaurant in San Juan, Puerto Rico – serving artisanal pizzas, local ingredients and craft beer – when she realized her job skills needed a boost.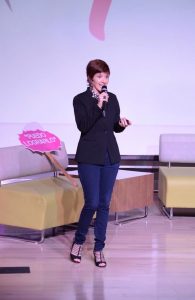 In 2013, at the age of 40, Martinez and her partners closed the restaurant, which prompted her to explore her next chapter.  She searched for ways to redefine her craft as an online communicator and the University of Florida College of Journalism and Communications online Master of Arts Mass Communication social media specialization was the perfect opportunity to do just that.
"As an owner of the restaurant, I was in charge of management of the restaurant, which included marketing and promotional efforts and that was my first professional experience with social media," Martinez said. "That was also when I think I fell in love with social media."
Enrolling in the online master's program just made sense. "I knew I enjoyed social media and helping businesses communicate, so I decided to go for the degree." Martinez not only earned her degree, she is now teaching two undergraduate online courses, one on social media and one on audience analytics.
She works entirely from her home in Hatillo, a small town in the Northwest region of Puerto Rico. When she isn't teaching, Martinez works as a project manager at the Universidad del Sagrado Corazón and serves as a board member for MAPFRE, one of the world's largest insurance companies.
"Every opportunity that I've had in the past two years from a professional standpoint, I owe to the University of Florida," Martinez said. "The degree as a whole makes you investigate, makes you think, makes you bring the conversation to the next level. "And the students pushed me each and every day."
The interactive discussion boards in each of her classes helped make Martinez – who was more than a thousand miles from the United States mainland – feel right at home. "The program capitalizes on that two-way aspect of social media, and helps you to begin communicating more effectively," Martinez said. "Those discussion boards are where I learned to interact and make friends."
Even after graduating in 2015, Martinez still maintains contact with some of the friends she made through UF's program. Working in groups and commenting on her peers' ideas helped to solidify that bond of friendship, she said.
Martinez is also active in her community through service and speaking events. She recently spoken at prominent events like Social Media Week San Juan, EXMA Colombia, Mujer Emprende Latina and My Barely Famous Life.
Learning how to develop and maintain a personal brand has been crucial in her success as a communicator, Martinez said.  "I asked myself, 'How can you say your message better so people engage with you?' and UF's program teaches you just that," Martinez said.
"I am certainly an advocate for the program – I think the master's degree specifically gives you a new perspective about critical thinking," Martinez said.  "Your results will improve."
Posted: October 23, 2018
Category: Alumni Profiles, Profiles