CJC Alum Receives PRSA's Gold Anvil Award for Lifetime Achievement in Public Relations
University of Florida College of Journalism and Communications (UFCJC) alumnus Del Galloway, B.S. Journalism 1981, M.A.M.C 1983 and 2002 Alumni of Distinction, will receive the Public Relations Society of America (PRSA) Gold Anvil Award, the Society's highest individual honor recognizing lifetime achievement in public relations. He will receive that award at the PRSA 2018 International Conference on Oct. 7 in Austin, Texas.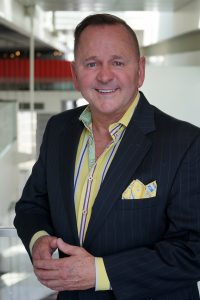 Galloway, APR, and Fellow PRSA, is vice president of communications at Wells Fargo in its Atlantic Region. He previously was vice president of communications at United Way Worldwide. He has served with Young & Rubicam, Cohn & Wolfe, Husk Jennings Galloway + Partners, where he was co-owner of this Jacksonville, Florida-based public relations and advertising agency, and as director of corporate communications at AT&T American Transtech, a wholly owned subsidiary of AT&T.
Galloway was honored for his 35-year career – spanning the agency, corporate, nonprofit and education sectors. As president and CEO of PRSA in 2004, Galloway established the Society's first National Diversity Committee, and he is the Society's first openly gay president and CEO. He is an architect of Universal Accreditation, a designation adopted by multiple communication organizations recognizing excellence in public relations.
In 1990, Galloway was president of the Florida Public Relations Association, and in 2002 he received FPRA's "Dillin Award" for lifetime achievement in public relations. He is a member and past chair of the UFCJC Public Relations Advisory Council and was named the Freedom Forum Visiting Professor at UF in 2006. He also is a member of the Accrediting Council on Education in Journalism and Mass Communications, the governing body that accredits schools of journalism and communications.
Posted: October 1, 2018
Category: Alumni News, College News
Tagged as: Del Galloway, Gold Anvil Award, PRSA