ALUMNI: Dara Torres: Still at the Top of Her Game
By Lenore Devore, B.S. Journalism 1984
Clad in stylishly torn white jeans, a yellow T-shirt and blue flip flops, Dara Torres, B.S. Telecommunication 1990, runs onto the football field at Ben Hill Griffin Stadium and promptly does eight pushups, then quiets the crowd. Putting down the orange-and-blue 2-Bits sign, the 12-time Olympic swimming medalist uses her toned arms to point to one side of the massive crowd, then the other, as the honorary Ms. Two Bits for the October 2017 Texas A&M game.
It was one of her favorite moments at the University of Florida, Torres says. "I got to show my family UF, reminisce and get all nostalgic."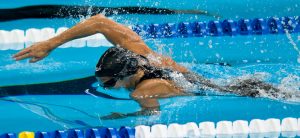 Torres' swimming career was nothing short of incredible.  While at UF, she earned 28 NCAA All-American swimming awards, the most possible, and was named NCAA Swimmer of the Year and Southeastern Conference's Athlete of the Year (both in 1988). As an Olympian, Torres won twelve Olympic medals (four gold, four silver, four bronze), tying two other swimmers for the most Olympic women's swimming medals, and is a  former world record-holder in three events. She is the first swimmer to represent the United States in five Olympic Games (1984, 1988, 1992, 2000 and 2008) and one of a handful of Olympians who won a medal at five games. And, at age 41, she was the oldest swimmer to earn a place on the U.S. Olympic team.
Torres recalled back in 1986 how crazy it all seemed during her first Saturday morning swimming practice on the day of a home football game.
"I grew up in California, Los Angeles, and you just aren't fazed by the colleges there — there are so many," she says. "I'll never forget … after one of my first morning workouts about 5:30, I couldn't believe it when I walked out … I was blown away that by the time we got out at 8, I was bombarded by people in orange and blue, with their faces painted. What are these crazy people doing? It was my first eye-opening experience."
So weird, she says she thought at the time. "It was a great atmosphere to be in. The whole entire town was cheering on the Gators. It took me a little while to go to a game, but I did after three or four games. Then I thought: This is pretty cool."
Now 51, the married mother of 12-year-old Tessa Grace says majoring in telecommunication at the College of Journalism and Communications (UFCJC) prepared her for a job in television and beyond.
She chose to study at UF because other colleges didn't have the hands-on program that UFCJC did, she says. "It was one of the reasons I chose UF. I'll never forget the feeling of being able to direct and produce and do other kind of fun stuff, behind the scenes. It wasn't just get out a book. We did really cool stuff. To work at the TV station and get that experience that you need was critical because once that little red light goes on, it's a much different story.
"It prepared me for life after college."
Torres says she's "had so many great gigs," including her work on a hockey show, a golf show for the Resort Sports Network and more. But don't label her a color commentator — something she admits to not being very good at. "I branched out and have done lots of other things. I will say that I enjoyed the whole experience of doing what I loved to do. I was very blessed and honored."
Beyond TV, Torres has been a model and businesswoman, raised money for cancer research and written two best-selling books: "Age is Just a Number: Achieve Your Dreams at Any Stage in Your Life," a memoir published in April 2009, and "Gold Medal Fitness: A Revolutionary 5-Week Program," published a year later.
L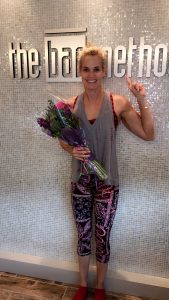 ooking young and acting young — through exercise — are big parts of her life. "I've always stayed in shape. I love working out, the way it makes you feel, the way it makes you look," she says. Even though she just moved back to Parkland, Florida, from Massachusetts, she'll travel to her Barre Studio up North every four to six weeks to keep her certification as a barre instructor.
She's also a spokeswoman for a couple of companies; co-hosts an all-female sports talk show on CBS Sports, "We Need to Talk"; and does guest appearances as a motivational speaker on topics such as women's empowerment, never giving up on your dreams and being an Olympian.
Today, she would tell CJC students to take advantage of every opportunity they can to get experience.
"I was fortunate enough to get a job in NBC sports and in the CNN PR department, and then it was a non-paying job," Torres said. "But if you get an opportunity to do something, to get the experience, take it. That experience may never come up again. I started as a runner, an intern. There's a lot of grunt work you have to do, then work your way up."
She also feels fortunate to have spent time at UF when Bill Arnsparger was athletic director. "He was awesome," she says of the former Miami Dolphins' defensive coordinator who died in 2015. "He and his wife sort of became my family away from home. He was very humble. So humble. They were just very sweet."
Her status as an Olympian is "very hard to describe," she says, searching for words. "People don't really know what you go through to be the best you can be. Sometimes when they broadcast the Olympics they show something about going to morning practices, the up-close-and personal. What people don't understand is it's a lot of hard work. You spent your whole life training for this. For me, it was 24 seconds. The biggest event in the world that happens every four years, and the best athletes in the world go to it. You will never be in a competition at a higher level than the Olympic games. It's an indescribably amazing experience. You have to take it all in. Before you know it, it's all gone. It takes you forever and then it's gone."
Will we see her on TV at the 2020 summer Olympic games? She won't do color commentary, but she wouldn't mind putting her UF degree to work interviewing swimmers.
Again, it's back to UF. It "is an amazing school, amazing campus, amazing community. It's a big school, but it ends up being a small community once you are there."
Posted: September 6, 2018
Category: Alumni Profiles, Profiles
Tagged as: Dara Torres