WUFT-FM Honored as One of the Top Five Non-Commercial Stations in the U.S.
The National Association of Broadcasters (NAB) has announced that public radio station WUFT-FM is one of five finalists for the prestigious 2018 National Association of Broadcasters (NAB) Marconi Radio Awards in the non-commercial station-of-the-year category. The winner of the award, which honors radio stations and on-air personalities for excellence in broadcasting, will be announced on September 27.
WUFT-FM, operated by the University of Florida College of Journalism and Communications (UFCJC), is the local NPR affiliate in Gainesville, Florida, serving a 19-county North Central Florida area.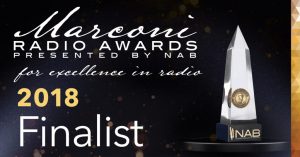 In addition to overall excellence, the station was cited in particular for its coverage of Hurricanes Irma and Maria in 2017.  WUFT is part of the Florida Public Radio Emergency Network, a statewide network of public radio stations developed and operated by the College in 2015. It is the only network of its kind in the nation.
The NAB Marconi Radio Awards were established in 1989 and named after inventor and Nobel Prize winner Guglielmo Marconi. These prestigious awards recognize stations and individuals for their excellence and performance in radio.
WUFT-FM is a 100,000-watt station that features a news/talk format with local newscasts from UFCJC Innovation News Center student journalists and news, public affairs and entertainment programming from NPR, PRI and APM.
Posted: July 20, 2018
Category: College News
Tagged as: 2018 NAB Marconi Radio Awards, WUFT-FM