Diane McFarlin Offers Career Insight and Leadership Advice for Women
Diane McFarlin, University of Florida College of Journalism and Communications dean, is featured in "UF Dean Offers Insight into Leadership and Serving as a Role Model" published in the Business Report of North Central Florida on July 16.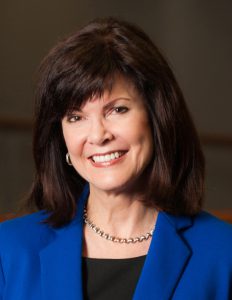 The article features her career since graduating from UF in 1976, including her leadership roles as executive editor of the Gainesville Sun, executive editor and publisher of the Sarasota Herald-Tribune and now as CJC dean beginning in 2013. She speaks about the proliferation of female leadership and her belief that business owners understand the importance of diversity of thought and perspectives.
"Since women represent half of the world's population, their perspective is key to the success of any venture. That wasn't fully appreciated when I started my career, and it's still not appreciated enough in certain sectors," said McFarlin. "With the force of history behind them, women are more confident in their roles and better at navigating the workplace today than they were 40 years ago. They are no longer 'exceptions,' but have demonstrated that women can take on any role and do it well. Our students have so many more women leaders to emulate today, so what they are seeking are best practices and guiding principles, not survival techniques."
McFarlin also offered advice for women looking to become leaders in their fields. Her tips include lead by the "Golden Rule;" base all decisions on shared values and principles; capitalize on empathetic tendencies; and volunteer for challenging responsibilities when possible.
Posted: July 19, 2018
Category: Alumni News, College News
Tagged as: Business Report of North Central Florida, Diane McFarlin