STUDENT: Softball Phenom Kelly Barnhill Touching All Bases
As a superstar softball pitcher, Kelly Barnhill has become a household name, at least in Gator Nation households. And she continues the legacy of star UF athletes pursuing communication careers.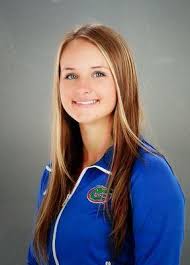 Since her commitment to UF, the rising Public Relations senior has notched eye-popping numbers. She holds the UF record in ERA (0.81), opposing batting average (.128 ), strikeouts per seven innings (12.19) and lowest stolen base against percentage (.333).   Other notable career highlights include tossing four no-hitters, a perfect game, and a couple of trips to the Women's College World Series (WCWS).
In addition, she's earned a slew of honors, including the 2018 Google Cloud Academic All-American of the Year (only the 10th Florida student-athlete and the second softball player to have ever received the award), 2017 USA Softball Collegiate National Player of the Year, 2017 espnW Player of the Year and an ESPY for Best Female Collegiate Athlete in 2017.
While her goals on the field are precise, she is still formulating plans for her eventual career. She chose public relations and a concentration in political science, she says, because "it's a great and useful degree", wherever she ends up.
Barnhill said the courses she's taken are very appropriate for the major and the world CJC students are preparing to go into. Courses like Public Relations Strategy allow her to learn by doing in the field.
"You're not just reading it out of a textbook," Barnhill said. "You're actually going out and finding a client. You're doing the research and lots of group projects because that's what you're going to do in life, especially working in the communications field, is work with other people."
Barnhill loves to travel and would like one day to work overseas. After graduating, she's looking to add a master's in global strategic communication to help move toward that goal.
Before arriving at UF and making her mark on the softball program, the Marietta, Georgia, native was doing more of the same at Allen C. Pope High School. During her time there, she led the softball team to the 2014 Georgia Class 6A state title as a senior, named the 2015 USA Today Softball Player of the Year and was a three-time Pope High School MVP, among other recognitions.
Her love for the sport sprouted at around age 6, and she credits her pitching coach Stacy Tamborra and parents as mentors while growing up. Tamborra, a former pitcher at Florida State University, is still her pitching coach today.
With a state championship and several awards under her belt, she began the recruiting process and had her eyes set on Stanford and UF.  Her decision came down to the environment and the coaching staff at UF, which she said would do whatever they could for her on and off the field to help her grow as a player and an individual.  She loved the atmosphere and comradery of the players and thought it was the best of both worlds in terms of athletics and education.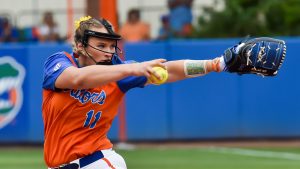 While a new season and newly renovated Katie Seashole Pressly Stadium looms in the distance, Barnhill will be focused on her courses and continue working on her degree. She's relieved that one course is out of the way, though.
In the spring, she took Professor Mike Foley's news reporting course and found it challenging, especially taking it during the season.            Barnhill said it was difficult trying to work with traveling for a softball schedule, getting stories in on time, editing them herself and getting sources to respond to phone calls and emails while on a deadline.
The topic of reporting even came up after a game last season. Barnhill said after pitching a no-hitter, one of the beat reporters, who was also in her reporting class, asked her how she felt, and she responded, "I feel like I just need to go home and finish writing my tip sheet for the week." Despite the rigors of the course, she thinks it provides students with practical skills such as writing and going out and finding stories. The course made her appreciate the whole process of the news.
Barnhill will be traveling back to Japan in August for a fifth time to compete with Team USA in the World Championship and has her eye on the 2020 Summer Olympics.  "With the timing [of the next Olympics], I'm also really training and working hard trying to compete for an Olympic spot," she said.
In the future, she'd like to play in a professional league in Japan or in a European league, particularly in Italy.
Though her time at UF isn't over yet, Barnhill has opened the doors to different future opportunities in public relations and professional softball. For now, it's a matter of preparing for the next game, preparing for the next assignment and preparing for the road ahead.
This story was written by CJC student William Clewis, Public Relations, 2020.
Posted: July 3, 2018
Category: Profiles, Student News, Student Profiles