CJC Students Honored in 2018 Hearst Multimedia Team and Intercollegiate Competitions
University of Florida College of Journalism and Communications (UFCJC) student journalists placed third in the 2018 Hearst Journalism Awards multimedia team news/reporting category for "Cuba: Outside In."
The website chronicles the May 2017 Cuba study abroad trip by CJC student journalists and professionals to capture the essence of this Caribbean nation.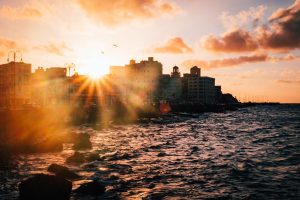 "Cuba: Outside In" student team members were Drea Cornejo, Briana Erickson, Caitie Switalski, Tamara Dobry, Danielle Chanzes, Merrett Fay, Grace King, Jordyn Heck, Desirae Lee, Maddy McKay, Thomas Moseley, Maya Punjwani, Chris Totzke, Danielle Veenstra, Rachel Wang, Sophia Zayas, and Bailey LeFever. The honor also includes a $1,500 scholarship award.
Arizona State University and Western Kentucky University placed first and second, respectively in this contest. The 2018 multimedia team competition received 79 team entries from 45 schools.
In addition, UF placed fourth overall in the Intercollegiate Multimedia Competition. Colleges and universities accumulate points from the four multimedia competitions during the year. Western Kentucky University placed first, followed by the University of North Carolina at Chapel Hill and the University of Nebraska-Lincoln.
The Multimedia judges were Kenny Irby, independent visual consultant, Fla., Mark Morris, former senior editor/multimedia, The Sacramento Bee and Brian Storm, founder and executive director, MediaStorm.
The Journalism Awards Program, now in its 58th year, added multimedia to the competition in 2010.  The program also includes five writing, one radio, two television, and two photojournalism competitions offering up to $700,000 in scholarships, matching grants and stipends.  The 105-member universities of the Association of Schools of Journalism and Mass Communication with accredited undergraduate journalism programs are eligible to participate in the Hearst competitions.
Posted: May 18, 2018
Category: College News, Student News
Tagged as: Alyson Larson, Cuba: Outside In, Hearst Journalism Awards, Matt Sheehan, Ryan Jones