CJC Students Honored at SPJ Region 3 Mark of Excellence Competition
University of Florida College of Journalism and Communications students were honored in the 2017 Society of Professional Journalists Region 3 Mark of Excellence Awards (MOE) competition. Students were recognized for their work on radio, television, print and online by professional judges with at least three years of journalism experience.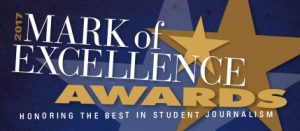 UF CJC received a record 34 awards in the Region 3 competition. Region 3 is comprised of Alabama, Florida, Georgia, South Carolina, Puerto Rico and the U.S. Virgin Islands. First place winners will now compete with other winners from all 12 SPJ regions and awards will be given at the national convention in Baltimore in Sept. 2018.
Honorees include:
Print:
Breaking News Reporting (Large): Winner, Ian Cohen, Romy Ellenbogen, David Hoffman and Jimena Tavel, "Protesters Take a Stand, Outnumber Spencer Reporters"
Feature Writing (Large): Winner, Ethan Bauer, "Into the Void"
Sports Writing (Large): Winner, Ethan Bauer, "Former Miami Dolphins Wait and Wonder About Future Health"
Sports Writing (Large): Finalist, Matthew Brannon, "Best Foot Forward: UF Kicker Eddy Pineiro Using Football To Give His Family a Comfortable Life"
Sports Writing (Large): Finalist, Ethan Bauer, "Her Decision"
Sports Column Writing: Winner, Ethan Bauer, "I Get Why Jim McElwain Should Go. But Remember, He's Human Too;" "Adversity is the Most Overused Word in Sports. Instead, Let's Not Cheapen It;" "Don't Make Football a Priority in a Time of Crisis"
Sports Column Writing: Finalist, Ian Cohen, "In the Wake of Spencer Controversy, It's OK to Take a Break from Sports;" "Take Yourselves Less Seriously, Sports Teams"
Sports Column Writing: Finalist, Matt Brannon, "Earth is Flat, Obviously, You Idiot;" "Dan Mullen Just Volunteered to Go Through Hell;" UF's New Uniforms Are So Cool They Almost Make Me Forget How Bad the Team Is"
Art/Graphics:
Sports Photography (Large): Winner, Grace King, "Gators Lose in the Elite Eight"
Radio:
Radio News Reporting: Winner, Staff of WUFT-FM, "Irma Aftermath"
Radio News Reporting: Finalist, Staff of WUFT-FM, "Richard Spencer Speech and Rally"
Radio Feature: Finalist, Alexa Lorenzo, "ALS Doesn't Stop This Artist"
Radio In-Depth Reporting: Winner, Luke Sullivan, "When the Lights Go Out, and Stay Out"
Radio Sports Reporting: Winner, Caitie Switalski, "A Cuban Woman Who Wants to Box"
Radio Sports Reporting: Finalist, Savanna Collins, "Family Travels to Omaha"
Best All-Around Radio Newscast: Winner, Henry Colburn and Delores Hinckley, "Oct. 19, 2017 Newscast"
Television:
Television Breaking News Reporting: Winner, Ryan Roberts and Daniela Hurtado, "Pulse Anniversary"
Television Breaking News Reporting: Finalist, Alexa Lorenzo, "Gators Drown Out Richard Spencer"
Television General News Reporting: Winner, Grace King, "2017 Hurricane Season Begins"
Television General News Reporting: Finalist, Grace King, "Santa Fe River Flooding Lingers"
Television Feature Reporting: Finalist, Zoe Haugen, "MIA Mia"
Television Feature Reporting: Finalist, Alexa Lorenzo, "Painting with a Purpose"
Television In-Depth Reporting: Winner, Daniela Hurtado and Danielle Frew, "Lead in School Water"
Television Sports Reporting: Finalist, Savanna Collins, "Palatka Pride"
Best All-Around Television Newscast: Winner, Rachel Trent and the Staff of WUFT News, "WUFT News"
Online:
Online Feature Reporting: Winner, Briana Erickson, "Two Veterans, Two Wars"
Online In-Depth Reporting: Winner, Molly Donovan, "Grade Expectations"
Online In-Depth Reporting: Finalist, Staff of WUFT.org, "Energy Burden"
Online In-Depth Reporting: Finalist, Nicole Dan, "Feels Like an Earthquake: Newberry Neighborhood Fears Damage from Limestone Mine"
Best Use of Multimedia: Winner, Staff of WUFT News, "Our Gainesville"
Best Use of Multimedia: Finalist, Staff of the Independent Florida Alligator, "The 45th President"
Videography:
Online/Digital News Videography: Winner, Ramsey Touchberry, "Gainesville Residents React to Thursday Speech Event on Campus"
Online/Digital Feature Videography: Winner, Andrea Cornejo, "Beyond Gender"
Posted: May 14, 2018
Category: College News, Student News
Tagged as: SPJ Region 3 Mark of Excellence Awards