Reggie Garcia, B.S. Journalism 1982
We begin with baseball. With an impressionable 12-year-old boy at Tampa's Al Lopez Field to watch a Cincinnati Reds spring training game circa 1972. The hits and catches and strikes and outs are unimportant to him. His eyes are on the bleachers.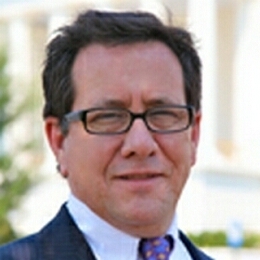 There, nailed into the flat metal rows, was a three-foot plywood desk occupied by one of the greatest sports broadcasters of his generation, Al Michaels. Michaels, known now for his play-by-play duties on Sunday Night Football, was unknown then. He was in his early 20s and he was there to broadcast the game over the radio when a young boy approached him.
That 12-year-old boy was Reggie Garcia. And he explained to the broadcaster that he, too, wanted to be a sports broadcaster. He even practiced calling games at West Tampa Little League.
The calendar is approaching its fifth decade since that meeting, and while Michaels is still calling games at 73, Garcia never made it to the booth. He spends his days in Tallahassee courtrooms and the halls of the state Capitol instead.
A 1982 University of Florida's College of Journalism and Communications Journalism graduate and a 1985 graduate of UF's Levin College of Law, Garcia's current job is split into three parts: A third of it is lawyering, a third is lobbying and a third is "executive clemency and parole." He's an expert on the latter, having written two books on the subject.
And his journey to reach that summit started soon after he abandoned his sportscasting goals in favor of a more traditional path. That path that brought him to CJC, where he learned about the happenings of the world from influential visiting professor Dan Neuharth (son of USA Today Founder and former Gannett Chairman Al Neuharth) to UF's law school, where he learned that journalistic writing wasn't the only way to write, and finally to Tallahassee, where he uses the skills acquired at both.
Garcia started to pivot away from sports broadcasting in high school with some inspiration from his father, Skip. A native of Key West, Skip Garcia lived in Tampa most of his life and was very involved in politics. He helped elect Sheriff Malcolm Beard in 1964 and worked with the sheriff's office and later the State Fire Marshal.
"I grew up in and around politics," Garcia said, "and in and around political advocacy."
And he was around journalism. At Tampa Catholic High School, he was an editor for the school's yearbook.
At CJC, Garcia studied journalism and public relations. He knew he wanted to be a lawyer and thought the skills he could learn at the College could help fulfill that goal.  As an undergrad, he was taught the basic principle of journalistic prose: Tell both sides of the story, and make sure your coverage is fair.
"The UF journalism experience — especially with campus politics and leadership stuff — all worked well together," he said, "as far as learning and improving writing and learning and improving public speaking."
He joined the Public Relations Student Society of America (PRSSA) and used his writing training to land internships with the State Attorney's Office and the Florida Senate.
"The teachers were great, the students were great, the practical stuff, the PRSSA trips, the Tallahassee trips, the internships, the part-time jobs, the student leadership stuff, all of those things," he said, "gave me an opportunity to turn my education into action."
In law school, his style morphed into something more like advocacy writing, which the field required. It changed again in 2015 when he wrote his first book called How to Leave Prison Early: Florida Clemency, Parole and Work Release. (His last clemency book, also published in 2015, is called Second Chances: Florida Pardons, Restoration of Civil Rights, Gun Rights and More.)
Through those changes, though, he thought back to another principal of his journalism education: "What's the goal? Who's the audience? What's your purpose?"
That simple lesson has consequences beyond the bounds of writing books or legal documents or newspaper stories. It also informs the statements he helps draft for former felons seeking to restore their civil rights in front of the governor — something he's attempted about 50 times, resulting in about 25 appearances before the governor and the cabinet members who comprise the state's clemency board.
He took his first clemency case in 1994 and is now regarded as one of the state's foremost experts on the subject. His website is even called floridaclemencyattorney.com. Much of his work focuses on people who committed crimes when they were young and have not broken the law since, but are still not able to coach their kid's little league team.
In addition to the writing and research skills that inform and invigorate his published works, his time at CJC taught him to try new things. Garcia believes he took advantages of his opportunities in college, and that people generally should take advantage of one of the greatest opportunities available to them: Speaking up.
"We're all experts in something," he said. "I would encourage every student — and, for that matter, alumni — to write an op-ed if you've never done one before. Their writing career will take off from there!"
This "Defining Moment" was written by Ethan Bauer, B.S. Journalism 2018
Posted: April 26, 2018
Category: Alumni News, Alumni Profiles, Profiles
Tagged as: Defining Moments, Reggie Garcia