CJC Student Receives Presidential Service Award
Rhina Garcia, a University of Florida College of Journalism and Communications Journalism senior, has received a 2018 UF Presidential Service Award from the David & Wanda Brown Center for Leadership & Service. The award recognizes undergraduate and graduate students who dedicate themselves to promoting social justice, community awareness, and civic engagement on campus and in the community.
Garcia was one of only 53 award recipients.
To be eligible, students must complete 400 hours of service as an undergraduate or 200 hours as a graduate or professional student.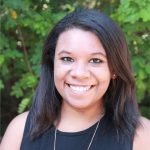 The UF Brown Center provides the structure and resources to prepare students to become productive citizens and assume roles of leadership and service in a culturally diverse and increasingly complex society.
Posted: April 10, 2018
Category: College News, Student News
Tagged as: 2018 UF Presidential Service Award, David & Wando Brown Center for Leadership & Service, Rhina Garcia