Churchill Roberts Recounts His First Film on the 1968 King Assassination and Memphis Strike
Churchill Roberts, University of Florida College of Journalism and Communications Telecommunication professor, was in Memphis on April 4, 1968, the fateful day when Dr. Martin Luther King, Jr. was assassinated.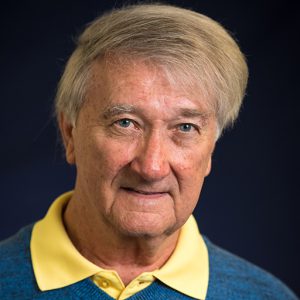 His experience during that time led to his first documentary film, produced when he was a University of Iowa doctoral student in 1971. "Keep Your Trash" recounts the events of the historic 1968 Memphis sanitation workers' strike and the assassination of Dr. King.
Roberts grew up in Memphis and in 1968 was taking a Memphis State University master's course under David Yellin, a former NBC news director. He became a part of the Memphis Search for Meaning Committee formed by Yellin after King's assassination. This mostly-student committee recorded oral histories of people — their recollections of what had transpired and why — and collected the outtakes of film shot by various television stations.
When Roberts went to Iowa to pursue his Ph.D., he decided to make this film because he had access to pertinent material that few people knew about. His advisor at Iowa, Professor Sam Becker, reminded him that Iowa was a research-oriented program with a strong emphasis on quantitative research, but still encouraged him to make the film and provided funding.
"After I finished the film, the general manager of the NBC affiliate in Memphis, Mori Greiner, invited me to come to Memphis," said Roberts. "He arranged a private screening at the station for some of the people involved in the strike, including the Reverend Jim Lawson, who had invited King to come to Memphis to support the sanitation workers.  After the screening, no one applauded or said anything.  Finally, Mr. Greiner said it was a deeply moving film, and then he added, 'of course, you understand we could never show it on television here.'"
Roberts explains that although Greiner was a progressive station manager, he was also keenly aware of the racial tension that persisted in Memphis long after King was assassinated. Eventually, the film was shown on public television stations and in college classes. Four decades after its original release, "Keep Your Trash" was added to the UF Digital Collections through the Samuel Proctor Oral History Program and George A. Smathers Libraries at UF.
Posted: April 4, 2018
Category: College News
Tagged as: Churchill Roberts, Keep Your Trash, UF Digital Collections