STUDENT Q&A: Morgan Ginn, Advertising Senior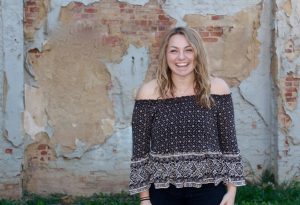 Learning about mistreatment of workers and harmful environmental practices by some clothing manufacturers inspired Morgan Gill to pursue the "slow clothing" movement and make a difference for women in developing countries.
Q.  What are you studying at CJC?
A.  Advertising with a focus in health communications.
Q.  How did you become passionate about ethical fashion?
A.  I was wondering who made my clothes after learning about the dark side of the fashion industry from a friend. I learned that many companies mistreated their workers and they had a negative impact on our environment, all in the pursuit of cheap clothes.
Q.  How are you using the skills learned at CJC to do the work you love?
A. CJC introduced me to social marketing which has given me the skills to use advertising strategies to convince people to care more about the world around us and the people in it. I've learned how to communicate the message of slow fashion to get people to ask: "Who made my clothes?"
Q.  Tell us about your internship. What did you do?
A.  I interned with a company called Krochet Kids International in Northern Uganda. The company exists to empower women to rise above poverty by giving them a job, education, and mentorship. My specific role was quality control which entailed checking the products the women made (beanies, gloves, headbands, etc.) to ensure they were marketable in the U.S. A big part of my role was acting as a liaison between Uganda and the U.S. to communicate production goals and the mission of the company. I worked directly with the head of marketing to photograph the women and share their stories of empowerment.
Q.  What was your experience like in Africa?
A.  Uganda was amazing. I felt adopted into the community as soon as I landed. The women I worked with ensured me that they were going to act as mothers, aunts and sisters to me during my time in Uganda. The biggest lesson I learned was how vital community is. It's a fundamental value of Ugandan life. People count the success of others as their own. If one of the women was unable to come to work, her team would share her load to ensure she gets paid.
There is an African proverb that reads, "Where the Elephant Grass Grows Together It Itches." It means that we can accomplish more when we work together than we ever could working by ourselves. My favorite memories came from all the moments I got to spend learning and working with the women. They wanted to turn me into a Northern Ugandan Acholi lady and one day they taught me how to wear a baby on my back. They were all so proud. I also got to do some fun things like go on a coffee tour, raft the Nile, and see some local wildlife.
Q.  What are you going to do when you graduate?
A.  After graduation, I plan to continue working to educate people about the importance of ethical fashion. I might be starting an ethical fashion line of my own or working for a social marketing agency or continuing my work with Krochet Kids. I'm not exactly sure, but I know my career will be one that aligns my passion with my profession — CJC encouraged me to do that.
Q.  Do you have a defining moment from CJC?
A.  My health communication class during my junior year. After my sophomore year, I interned with Krochet Kids at their headquarters in California. It was a summer that changed my life and inspired me to do more with my career. However, when I returned to college I felt so useless sitting at a desk. I was on the verge of dropping out when my advertising strategy teacher introduced me to the concept of health communications. I learned I could use my degree to sell people on the concept of slow fashion and use my skills to get people to care more about our world and the people in it. That class is the reason I stayed in school and why I am on track to graduate in May with a degree I am passionate about.
Q.  What are you working on this semester?
A. I am taking my last two classes, Advertising Campaigns and Law of Mass Communication. I will be using my education to grow my own social marketing campaign called "Not the New Black" which educates millennials on the importance of slow fashion.
Q.  Any advice for incoming students?
A.  Don't wait to search for internships till your junior/senior year. I got my first internship freshman year and have had one every summer since. Every internship I have had helped me to grow personally and professionally. Also, you can do anything with communications—even go to Uganda! Find your passion and then figure out how to align it with your profession.
Posted: January 17, 2018
Category: Profiles, Student Profiles
Tagged as: Krochet Kids International, Morgan Gill