CJC Alum Jeff Klinkenberg Receives 2018 Florida Heritage Award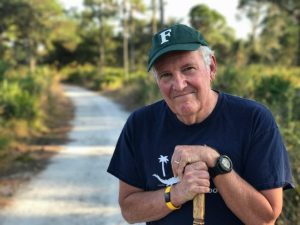 Former Tampa Bay Times columnist Jeff Klinkenberg, B.S. Journalism 1971 and 2010 Alumnus of Distinction, is one of three 2018 Florida Heritage Award winners. For almost 40 years, Klinkenberg penned the "Real Florida" column warmly depicting the diversity of Florida's residents.
The Florida Heritage Awards honor outstanding folk artists and folk culture advocates who have made long-standing contributions to the folk cultural resources of the state. Previous winners include Zora Neale Hurston, Marjorie Kinnan Rawlings and Stetson Kennedy.
Klinkenberg's seventh book, Son of Real Florida, will be published in April. The book combines his personal history with wide-ranging essays about the state's people, places, pleasures and peculiarities.
The 2018 awards will be presented at a ceremony in the Florida Capitol on Jan. 24. Other recipients include Marshall Davis, director of the African Heritage Cultural Arts Center in Miami, and Pedro Bullaudy, salsa musician and Orquestra Infinidad bandleader in Clearwater.
Posted: January 11, 2018
Category: Alumni News, College News
Tagged as: 2018 Florida Heritage Award, Jeff Klinkenberg, Tampa Bay Times