Rich Preuss, B.S. Telecommunication 1996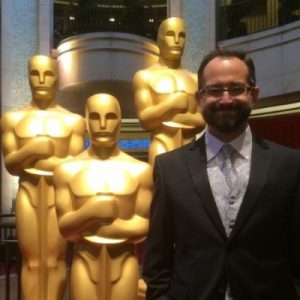 Perched in his Los Angeles kitchen is one of Rich Preuss' most prized possessions, the 1995 Most Valuable Player Award, a recognition he received while working as a production student at WUFT-TV. Now he can add another prestigious award to his collection – a 2017 Primetime Emmy Award.
Preuss, a television and interactive media director based in Los Angeles, served as co-executive producer of the online program "The Oscars: All Access." He has worked on the Oscars for more than 20 years and has been on the directing teams for many Emmy Award-winning shows, but this was the first time he received a statue.
"The environment is filled with adrenaline and it requires immense planning to get everyone on the same page and working toward the same goal," said Preuss. "I love the thrill of telling live stories."
His interest in broadcast production began while working as a student behind the camera at WUFT-TV. He enjoyed projects that offered real-world experience and recalls one day when no one showed up to direct the news and he was thrown into the director position. The broadcast was a stellar success.  The next day's newscast, however, was a disaster and he learned that you can never rest on your laurels.
His experiences at WUFT helped him discover his passion. He focused on improving his multi-camera skills and former WUFT-TV Production Director Frank Counts took notice of his efforts. He encouraged Preuss to apply for a competitive and prestigious internship at the Television Academy. The application process was intense, but well worth the effort. The internship provided the contacts and training that led him on the path to a successful and award-winning entertainment industry production career.
After graduation, Preuss moved to Los Angeles and started at the bottom as a production assistant. He worked his way up for the last 20 years and has been involved in production for variety television, national awards specials and now interactive television.
Preuss is appreciative of the real-world experience he garnered while at CJC. He credits the College and WUFT for providing the building blocks that allowed him to achieve success in broadcast entertainment.
Posted: November 14, 2017
Category: Alumni News, Alumni Profiles, Profiles
Tagged as: Defining Moments, Emmy Awards, Rich Preuss