"Cuba: Outside In" Website Honored in 2017 EPPY Awards Competition
Cuba: Outside In was a finalist in the 2017 EPPY Awards College/University Investigative or Documentary Feature category. The 22nd annual EPPY competition, sponsored by Editor & Publisher, honors the best international digital-media websites across 30 diverse categories.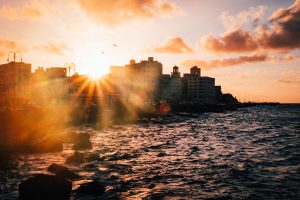 The website chronicled the May 2017 Cuba study abroad trip by University of Florida College of Journalism and Communications student journalists and professionals to capture the essence of this Caribbean nation. The program was led by CJC Visual Coordinator Ryan Jones and CJC Media Services Special Projects Producer Alyson Larson.
Posted: October 31, 2017
Category: College News
Tagged as: 2017 EPPY Awards, Alyson Larson, Cuba: Outside In, Editor & Publisher, Matt Sheehan, Ryan Jones