CJC and WUFT-FM Recognized for Hurricane Irma Coverage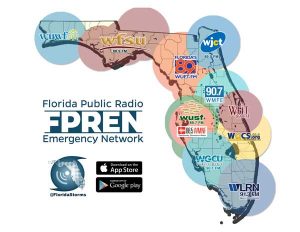 Professionals and students from the University of Florida College of Journalism and Communications public radio stations WUFT-FM/WJUF-FM and the Florida Public Radio Emergency Network, headquartered at the College's Division of Media Properties, were recognized for their efforts in providing live and ongoing coverage of Hurricane Irma to listeners throughout the state of Florida.
"New CPB Grant Bolsters Disaster Communications Work at Stations," published in Current on Sept. 27, focuses on a new grant from the Corporation for Public Broadcasting (CPB) for broadcast stations in tornado-prone areas to create the digital infrastructure needed to provide emergency messages via various technologies. The grant money will be used to create new public safety initiatives patterned after the Florida Public Radio Emergency Network (FPREN) operated by CJC and WUFT-FM/WJUF-FM. Through this network, WUFT-FM/WJUF-FM and the 13 FPREN partner stations covering Florida provided severe weather and emergency management updates during the storm to more than 20 million residents on-air and via the Florida Storms mobile app.
Posted: October 2, 2017
Category: College News
Tagged as: Corporation for Public Broadcasting, Florida Public Radio Emergency Network, Jeff Huffman, WUFT-FM