CJC Alums Receive Emmy Award Nominations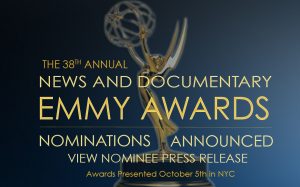 University of Florida College of Journalism and Communications alumni have been nominated for News and Documentary Emmy Awards from the National Academy of Television Arts and Sciences. Winners of the 38th annual competition will be announced on Oct. 5 in New York City.
The nominees include:
While at UF, the nominees completed their Master's degrees under the tutelage of Telecommunication Professor Churchill Roberts who also served as co-director of the former UF CJC Documentary Institute.
Posted: July 30, 2017
Category: Alumni News, College News
Tagged as: Churchill Roberts, David Cassidy, Emmy Awards, Hermal Trivedi, Michael Beach Nichols, Sarah Prior, UF CJC Documentary Institute