WUFT-FM Receives Two PRNDI National News Awards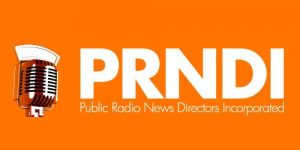 University of Florida College of Journalism and Communications student journalists and news staff were honored in the 2016 Public Radio News Directors Incorporated (PRNDI) Awards Competition. Two second-place awards were received, one in the Division C Breaking News and one in the Multi-Media Presentation categories, respectively, for "16-Year-Old Robert Dentmond Shot and Killed" and "Pulse Shooting Special Live Broadcast." The entries were broadcast on public radio station WUFT-FM.
PRNDI is comprised of public radio news professionals and students from around the country. The national annual awards competition is designed to honor the very best in reporting.
Posted: June 27, 2017
Category: College News, Student News
Tagged as: PRNDI, PRNDI Awards Competition, WUFT-FM