Burson-Marsteller's Pat Ford to Join CJC as Professional-in-Residence in Public Relations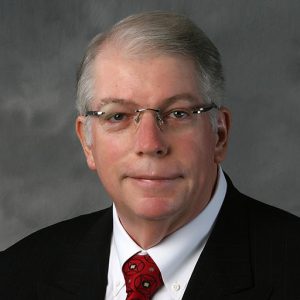 The University of Florida College of Journalism and Communications (UFCJC) today announced that Patrick Ford, worldwide vice chair and chief client officer for Burson-Marsteller, will join the College as a professional-in-residence for the 2017-18 academic year.
Burson-Marsteller is one of the largest strategic communications and global public relations firms in the world with 77 offices and 85 affiliate offices operating in 110 countries across six continents. Ford will continue to serve as a senior adviser to Burson-Marsteller's top management during the academic year.
"We are immensely fortunate to have Pat as a professional-in-residence this year," said Diane McFarlin, the College's dean. "Pat's stature in the industry, his experience and his intellect will add immeasurably to what is already one of the top public relations programs in the nation."
Ford, who has been with Burson-Marsteller for 28 years, spent six years as chief executive officer of its U.S. region and three years as chair of its Asia-Pacific region. He specializes in corporate reputation management, senior executive communication, media strategy, and issues and crisis management. His clients have included top-tier companies in industries as diverse as automotive, energy, express delivery services, financial services, food and beverage, management consulting, technology, and telecommunications, as well as government clients in the U.S. and Asia.
"I have long admired the leadership, faculty and students at this College and will be honored to join them in the coming academic year," Ford said. "I am eager to apply my experience and insights to the challenges facing students who aspire to careers in public relations and to help them deal with the extraordinary changes unfolding in the media and communications landscape."
Ford started his career as a journalist for the Jersey Journal (Jersey City, N.J.) and served as vice president for external affairs at the American Enterprise Institute for Public Policy Research. He is an advisory board member for the Museum of Public Relations, The Plank Center for Leadership in Public Relations and the Scripps Howard School of Journalism and Communications at Hampton University.  He is a trustee with The LAGRANT Foundation and with the Institute for Public Relations (IPR), which is housed at UFCJC.
"Pat Ford is one of the most highly respected and accomplished public relations professionals in the field," said Marcia DiStaso, the College's new Public Relations Department chair. "He has had a strong impact on professionals across the globe and will be a fantastic professor and addition to our program."
Ford has been a champion for diversity and inclusion at Burson-Marsteller and in the industry.  He founded the firm's Diversity and Inclusion Council, which he chaired for five years, and instituted diversity training.  In 2016, the PR Council named him Diversity Champion in the PR Agency category as part of their Diversity Distinction in PR Awards.
He also received the IPR's 2016 Alexander Hamilton Medal, awarded for lifetime contribution to the public relations profession, and, in 2014, the Milestones in Mentoring Legacy Award from the Plank Center for Leadership in Public Relations.
"The students at UFCJC are extremely fortunate to learn first-hand from one of the most talented professionals in the industry," said Don Baer, Worldwide Chair and CEO at Burson-Marsteller.  "Pat is profoundly committed to sharing his wisdom and insights both with his colleagues as well as aspiring communication professionals. We are delighted he has this opportunity with the University to do so in a formal way."
Ford will be joining a public relations program that was named one of the top five programs in the nation by PRWeek magazine.  Public Relations students have won the prestigious Public Relations Student Society of America Bateman contest twice in the past seven years and placed second two times during that period.
Posted: June 19, 2017
Category: College News
Tagged as: Burson Marsteller, Patrick Ford, Public Relations Professional-in-Residence