CJC Student Receives Inaugural Sports Journalism and Communications Scholarship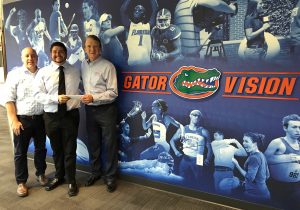 University of Florida College of Journalism and Communications Telecommunication senior Ilario "Larry" Tornese is the first recipient of the G. Paul Smeyak Sports Journalism and Communications Internship Scholarship. Tornese recently served as a production operations intern at ESPN in Charlotte, North Carolina.
"The internship was without a doubt one of the most beneficial experiences I've had in pursuit of my career in sports production," Tornese said. "I gained valuable advice as to what my next step would be to reach my goal of becoming a studio director. The funds helped to relieve the burden of moving to a new location. I couldn't be more grateful for the G. Paul Smeyak scholarship."
The G. Paul Smeyak Endowment, in honor of the former CJC Telecommunication professor and department chair, provides up to two annual $1,500 scholarships to assist Sports Media and Communication students with expenses incurred while participating in a major sports media or franchise internship.
The Internship Endowment has been established through the care and generosity of Paul's wife and sons, Corky and Stephen, to enhance the ability of UF sports media students to have high quality internship experiences.
Posted: June 16, 2017
Category: College News, Student News
Tagged as: G. Paul Smeyak Sports Journalism Communications Scholarship, Larry Tormese. ESPN, Soirts Media and Communication