Angela Buonocore, B.S. Advertising 1978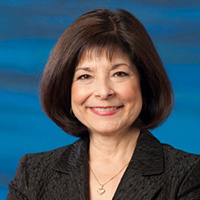 Angela Buonocore always loved writing but, like many freshly minted graduates, was not quite sure what she wanted to do with her life.  As it turns out, she quickly found her calling.
Angela, who retired from corporate life in December 2014, is a former member of the Public Relations Advisory Council and is currently chairing the Dean's Leadership Council, which is charged with philanthropic leadership and increasing recognition among key constituencies of the College's leading-edge programs, outstanding faculty and top-ranked students. She is also turning more attention to additional philanthropic efforts, with a particular focus on social justice, literacy and clean water and sanitation.
Below is an edited Q&A with Angela.
CJC: Was there a course, faculty or staff member that influenced your career choice?
AB: Dr. Frank Pierce [a former CJC Advertising professor] was hugely supportive of me and, right before graduation, he told me about a job at General Electric Company in Auburn, N.Y.  I graduated in December and was not too jazzed about moving to the snowbelt.  But Dr. Pierce kept pushing me to "at least go on the interview."  That was one of my first lessons in career strategy…always listen to the pitch!
I ended up taking an entry-level job in communication and learned that I loved the corporate side. Even though I had many offers to go to agencies over the years, I spent my entire 36-year career in corporate communication starting at GE, followed by IBM, then Pepsi, then ITT, and ending at Xylem, a spinoff from ITT and a leading global water-technology company.  I worked my way up from GE's APR (advertising public relations) training program to the chief communications officer post for three businesses — Pepsi Bottling Group, ITT and Xylem.
CJC: Was there one or more experiences that affirmed your choice of career?
AB: My career was a series of stepping stones and I was fortunate to work at some of the world's greatest and best-known companies. What really got me up in the morning was the chance to build brands, to help my employees advance in their careers and to ensure communication always had a seat at the CEO's table and in the boardroom.
While I held the title of chief communications officer in a number of businesses, I always remembered that the CEO is really the lead communicator. I viewed my role and my staff's role as helping to create authentic messaging for all of our key constituencies, beginning with employees and customers and extending to media, governmental/community leaders and the general public.
My jobs were always challenging and I consider myself beyond lucky for all the opportunities I had along the way. Presiding over the communication associated with an initial public offering (in the case of The Pepsi Bottling Group) and a three-way split (in the case of ITT) were certainly career highlights, as was the chance to create a program for social good that was responsible for bringing clean water to millions of people around the world.
CJC: Tell us about some of the awards and recognition you've received during your career.  
AB: I am a member of the Arthur W. Page Society and the Wisemen, both of which are organizations of communication leaders.  I was honored by UF's College of Journalism and Communications as an Alumna of Distinction in May 2007.  I was elected a member of the Accademia Europea per le Relazioni Economiche e Culturali, a group based in Rome, Italy, that seeks to highlight the contributions of Italian and Italian-American leaders in numerous fields. In 2010, I was named by the National Organization for Women's founding New York City chapter as a Woman of Power and Influence.
Posted: May 24, 2017
Category: Alumni News, Alumni Profiles, Profiles, Uncategorized
Tagged as: Angela Buonocore, Dean's Leadership Council, Defining Moments, Public Relations Advisory Coucil