CJC Students Participate in First-Ever Cuban Study Abroad Program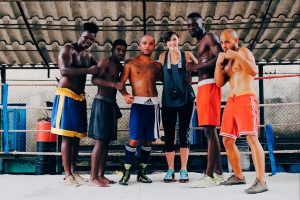 University of Florida College of Journalism and Communications students are receiving a crash course in Cuban culture during the 10-day UF in Cuba: CJC Edition multimedia workshop.
"University of Florida Students Get Hands-On Experience in Cuba," published on Miami's WPLG Local 10 news website,  features comments by the CJC Journalism student Caitie Switalski and CJC Visual Coordinator Ryan Jones, B.S. Journalism 2014. Switalski and Jones are part of a group of faculty, staff and students working on visual projects under the People-to-People educational initiative.
Students were taken out of their comfort zone, dealing with a different language and a different way of life on the Caribbean island, while capturing the essence of this small communist nation in photos and videos.
"I hope I have taken away a piece of their life, a piece of their story that I'll always remember," Switalski said.
Posted: May 10, 2017
Category: College News, Student News
Tagged as: Caitie Switalski, Matt Sheehan, People to People, Ryan Jones, UF in Cuba, WPLG