Craig Heyl, B.S. Telecommunication 1989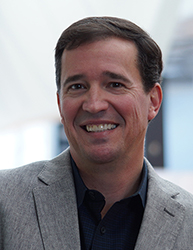 A passion for storytelling combined with early hands-on experience inspired Craig Heyl to pursue a career in video production. Along the way, Heyl has been a news editor, video producer, Turner Broadcasting senior vice president, Georgia State University professor and now he is working with team at Pinewood Studios in Atlanta on a number of their strategic planning initiatives.
Heyl worked behind the scenes at WUFT-TV as a floor manager, technical director and video producer while also working part-time for UAA Information Services. Heyl was inspired by many, but considers two men as his mentors: former WUFT-TV videographer Bill Abrams and longtime Gator Sports Videographer Dave Houts. Bill and Dave gave him his first assignments and he has not stopped since.
The College offered an abundance of opportunities to hone his skills. Working on Gator videos and Preview presentations even led him to meet his wife of 25 years. Heyl considers himself very lucky to be a CJC alum and for the cherishes mentors that have influenced his successful career.
Posted: February 13, 2017
Category: Alumni News, Alumni Profiles, Profiles
Tagged as: Craig Heyl, Defining Moments