Miles Doran Receives CJC Outstanding Young Alumni Award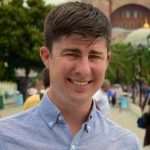 University of Florida College of Journalism and Communications alumnus Miles Doran, B.S. Telecommunication 2010, has is the winner of the College's Outstanding Young Alumni Award for 2016-17.
The award was created by the UF Alumni Association in 2006 to recognize Gators under the age of 35 who are leaders in their profession and community. The award will be presented at a ceremony on April 7.
"Weimer Hall provided the ideal training ground for this career," Doran said." I credit the hands-on experience and invaluable guidance from the college's newsroom managers for putting me in a position to succeed. I am truly honored by this recognition."  Weimer Hall houses the College of Journalism and Communications.
Doran has been an associate producer at "60 Minutes" since 2015.  He has worked on a variety of stories including "Seeking Asylum" with Anderson Cooper about the European refugee crisis, "Lost in the Bermuda Triangle" with Scott Pelley about the sinking of the cargo ship El Faro and "Dialing for Dollars" with Norah O'Donnell about the amount of time members of congress spend on the phone soliciting campaign contributions.
Doran has been part of the CBS family since 2008. He was a digital journalist with CBS News in Atlanta and New York, where he produced stories for "CBS Evening News," "CBS This Morning" and "CBS Sunday Morning."  He was also an associate producer for the "On the Road with Steve Hartman" series which aired weekly on the "CBS Evening News" and "CBS Sunday Morning. "
While at the College,  Doran was a reporter/anchor/producer for WUFT-TV, WUFT-FM and WRUF-AM and interned at WTSP-TV (St. Petersburg). He interned at WFTS-TV (Tampa) while in high school year.
Doran has earned numerous awards during his career including two Emmy Awards and the Society of Professional Journalists' Sigma Delta Chi Award for Feature Reporting. He has won the national Edward R. Murrow Award twice, once in 2013 and once as a student in 2008. Other awards as a student included first place in Television News from the Hearst Journalism Awards (2010) and Individual Achievement in Television (2009, 2010) and Individual Achievement in Radio (2008) from the Florida Associated Press Broadcasters. In 2006, he was named Student Journalist of the Year by the Florida Scholastic Press Association.
Posted: January 31, 2017
Category: College News
Tagged as: 60 MInutes, CBS News, MIles Doran, Outstanding Young Alumnus