Yvette Miley, B.S. Broadcasting 1985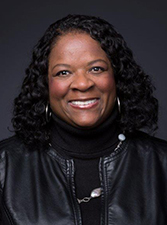 In 1985, Yvette Miley came to CJC to get her hands dirty. She had one goal: become immersed in broadcasting. On her third day on campus, she volunteered for WRUF-AM. There, Miley found her passion. So much so that she soon quit going to class, lost her scholarship and almost became homeless.
Thanks to the wise words of Dean Emeritus Ralph Lowenstein, she got the wake-up call she needed to change her focus and make the most of her college experience. From then on, she worked tirelessly, developed a rich understanding of storytelling and built relationships that led her to where she is today, MSNBC and NBC News senior vice president.
Miley has been with MSNBC for seven years and with NBC for 25 years. She is responsible for talent management and development of people both in front of the camera and behind the scenes. She also is the executive in charge of weekend, overnights and early morning programming.
Her path to a journalism career started as an intern with WRUF and WUFT. There she learned the ins and outs of the industry. Along the way, she met people who ultimately defined the next 25 years of her career.
CJC Emeritus Professor Charles Burke emphasized how credibility and accuracy can easily be destroyed by a fact error.  Former WRUF-AM News Director David Hosley whet her appetite to understand unfamiliar things – in particular weather events. He piqued her curiosity to get the entire story by focusing on the storm before, during and after.
Emeritus Professor Mickie Edwardson taught her to not be a "ritualistic" communicator, but rather a "pre-symbolic" communicator and build a relationship through conversation and eye contact. She taught her that people are motivated differently by different things and that you must be firm in your values, yet fair and flexible.
Perhaps the most influential was Lowenstein. He told her that the path she was following would not lead to graduation nor a job in the news industry. His fateful words were the wakeup call that she will never forget. She went back to class, got her degree and thanked Lowenstein for his inspiration as she walked across the commencement stage.
The lessons she learned at UF shaped her to become an award-winning journalist and leader in the news industry.
Posted: January 10, 2017
Category: Alumni News, Alumni Profiles, Profiles
Tagged as: Defining Moments, MSNBC, NBC News, Yvette Miley