Danny Wuerffel, B.S. Public Relations 1996
Danny Wuerffel: 20th Anniversary of Winning the Heisman Trophy
By Sara Perlman, TEL 2017
"My experience at Florida, both as a student and football player, had a great impact on my life and continues to do so on a daily basis."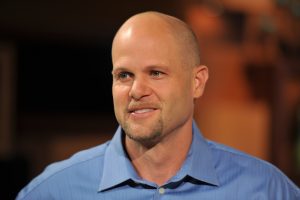 It has been 20 years since Danny Wuerffel, B.S. Public Relations 1996, won the Heisman Trophy. During his time at the University of Florida, Wuerffel led the Gators to four SEC Championships and the University's first national football title.
Wuerffel had two defining moments during his time as a Gator. He described them as the bookends of his college career. The first one came when he was a freshman and he threw a touchdown pass to Chris Doering with three seconds left for Florida to come from behind and beat Kentucky. The second defining moment was Wuerffel's senior year­ when UF beat Florida State University in the national championship game, 52-20.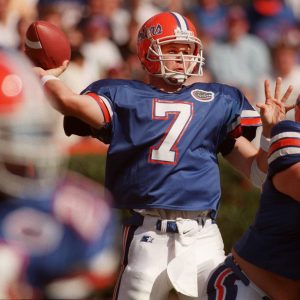 But the most significant and defining moment in his life was winning the Heisman Trophy.
"You really don't have any idea what winning the Heisman means at that time of your life," he said.
Winning such a big award has given him the platform he has today. "Being a Heisman Trophy winner is a leveraged place to be in American society," Wuerffel said.  And he has used his status to improve the lives of others.
Following Wuerffel's college and professional career, he joined Desire Street Ministries in New Orleans' Ninth Ward, a nonprofit with a mission to revitalize one of America's most impoverished neighborhoods.
In 2006, Wuerffel became Desire Street Ministries' executive director and moved its headquarters to Atlanta. He expanded its outreach beyond New Orleans to have an impact on hundreds of children and families living in other southern inner cities.
Wuerffel credits the University of Florida and the lessons he learned as a student and athlete with shaping his life.
"I'm thankful for the University and Athletic Department and the way they invested in our futures," he said. "Twenty years later and as I get older, I appreciate it all the more."
Posted: November 18, 2016
Category: Alumni News, Alumni Profiles, Profiles
Tagged as: Danny Wuerffel, Defining Moments