Jeff Huffman Provided Hurricane Matthew Updates for National Public Radio Programs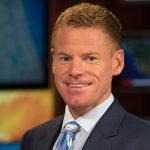 On October 6, National Public Radio's "Here & Now" host Jeremy Hobson spoke with Jeff Huffman, meteorologist for WUFT and the Florida Public Radio Emergency Network. Huffman provided the latest update on Hurricane Matthew's projected path along Florida's East Coast as well as what to expect when the storm heads north.
Huffman also provided commentary to NPR's "All Things Considered" on the same day. WUFT featured 24-hour Hurricane Matthew coverage on radio, television and online. In addition, Huffman provided updates to the 13 FPREN partner radio stations throughout Florida.
Posted: October 10, 2016
Category: College News
Tagged as: All Things Considered, FPREN, Here & Now, Jeff Huffman, NPR