George A. Levy, Retired Businessman and Philanthropist, Dead at 83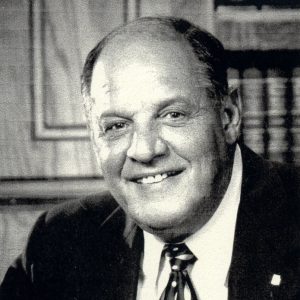 George A. Levy, B.S. Advertising 1957, passed away on Sept. 27. Levy was the founder of George A. Levy Awards, Inc., one of the nation's largest producers of trophies and awards. He was a philanthropist who played a major role in attracting sports teams to Tampa and in a number of civic causes.
After graduation from UF, Levy served two years in the Army and then worked as a sportswriter covering Gator football. Levy was passionate about community, sports and politics. He served on the boards of dozens of non-profit organizations and was the former chairman of the Board of Trustees of Hillsborough Community College. Levy was honored as Tampa's Outstanding Citizen in 1999 and the Aparicio-Levy Adult Technical Center in Tampa was named for him in 2006. He also established the George A. Levy Scholarship for CJC students.
Levy's twin brother is J. Leonard Levy, B.S. Journalism 1955, former president of Hillsboro Printing in Tampa and 1990 CJC Alumni of Distinction.
A former chairman of the Tampa Sports Authority, George Levy served with his brother on the Florida West Coast Pro Football Task Force — the group that led the effort to land an NFL franchise for Tampa. The Levy brothers also helped bring the first two Super Bowls to the city.
Posted: September 29, 2016
Category: Alumni News, College News
Tagged as: George A. Levy, J. Leonard Levy, Tampa Sports Authority