CJC Student News Reporters Honored at SPJ Sunshine State Awards Competition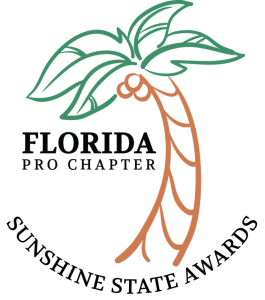 Student reporters from WUFT-TV/FM, Noticias WUFT and The Independent Florida Alligator were honored at the 22nd annual Society of Professional Journalists (SPJ) Sunshine State Awards presentation in Miami. Students were recognized in both professional and student divisions for their work on radio, television, print and online.
In the professional division, the Noticias WUFT News Team placed first in the Spanish Language category for the "Noticias WUFT" Oct. 17, 2015 newscast. Clara Garcia and Nicole Segini placed third in the Radio Public Affairs category.
The student division was divided into sub-categories based on the frequency of a school's flagship publication. High Frequency includes daily and multiple issues published five or more times a month. Low frequency includes publications that are weekly, every other week, monthly or fewer.
Honorees include:
Best News Story (High Frequency): First Place, Megan Bell, WUFT-TV
Best News Story (Low Frequency): Second Place, Megan Bell, WUFT-TV
Best Profile (High Frequency): Second Place, Dahlia Ghabour, wuft.org
Best Profile (High Frequency): Third Place, Heather Reinblatt, wuft.org
Best Sports Story (High Frequency): First and Second Place, Jordan McPherson, Alligator and WUFT-TV
Best Video (High Frequency): Second Place, Dahlia Ghabour, WUFT-TV
Best Video (High Frequency): Third Place, Eric Bandin and Nicole Gomez, WUFT-TV
Best Coverage of LGBT Issues: First Place, Heather Reinblatt, wuft.org
Best Coverage of LGBT Issues: Second Place, Ashley Lombardo, wuft.org
Best Coverage of Race and Minorities: Second Place, Dahlia Ghabour, WUFT-TV
Posted: July 13, 2016
Category: College News
Tagged as: Noticias WUFT, Society of Professional Journalists, Sunshine State Awards, The Independent Florida Alligator, WUFT-FM, WUFT-TV