Churchill Roberts Receives NEA Art Works Award for Upcoming Documentary Film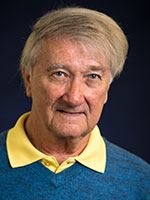 UF College of Journalism and Communications Telecommunication Professor Churchill Roberts has received a $20,000 Art Works Award from the National Endowment for the Arts to support production and post production costs for his documentary film The Curse of the Terracotta Warriors.
Art Works Awards support the creation of work and presentation of both new and existing work, lifelong learning in the arts, and public engagement with the arts through 13 arts disciplines or fields. This grant was part of the NEA's second major funding announcement for fiscal year 2016. So far this year, the NEA awarded $82 million nationally to local arts projects and partnerships.
In The Curse of the Terracotta Warriors will tell the little known story of the seven farmers who in 1974 uncovered the Terracotta Army of China's first emperor, Qin Shi Huang, and how their lives were forever changed after their discovery. Once completed, the film will be offered to film festivals, universities and museums and will be targeted for national broadcast.
Roberts was also a recipient of a UF College of Journalism and Communications seed grant to help fund the film's production.
Posted: May 19, 2016
Category: College News
Tagged as: Art Works Awards, Churchill Roberts, National Endowment for the Arts, NEA, The Curse of the Terracotta Warriors