Matt Sheehan to Lead Experimentation in Storytelling, Science and Social Change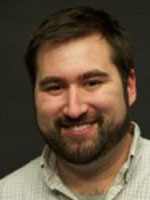 The University of Florida College of Journalism and Communications is accelerating its efforts to help organizations use the science and art behind effective storytelling, particularly on digital platforms, to better inform, persuade or connect with their audiences.
The College today named Matt Sheehan to the new role of Director of Stories and Emerging Platforms.  Sheehan will transition from his current role as Director of the Innovation News Center (INC), the College's award-winning, multimedia news operation.
Sheehan will be charged with driving real-world experimentation at the intersection of storytelling, narrative science and social good across all four of the College's disciplines – advertising, journalism, public relations and telecommunication.  He also will work collaboratively in the College's Media Effects and Technology Lab, which is being spearheaded by Journalism Professor Sri Kalyanaraman.
"Our mission is to develop a strategic vision for emerging storytelling approaches, grounded in solid research, to inform content experimentation," said Dean Diane McFarlin.  "Matt's visionary work in the INC, deep understanding of emerging technology, teaching experience and strong network of potential partners will allow us to hit the ground running."
The program will use the College's extensive student immersion programs and media properties to experiment with content approaches in real-world environments. INC students produce news, weather and sports content for the College's seven terrestrial broadcast and affiliated digital properties, including the local NPR, PBS and ESPN affiliates. The College also is home to The Agency, an advertising, public relations and consumer research firm led by professionals and staffed by students primarily focused on marketing to millennials.
"There is an increasing amount of science about effective storytelling and how to use stories to prompt social change," Sheehan said. "My role will be to help apply the science in partnership with industry and academic organizations to demonstrate what is possible and what works.  We are fortunate in our ability to take risks and 'fail fast' in real-world environments without fear of impact on the bottom line. "
Experimentation and innovation will be centered in a new content incubator. A team of students from all four of the College's departments, as well as other disciplines within the University, over the course of an academic year will form and reform into product development work groups. Additional consultants — including developers, content strategists and visiting professionals — will be added on a project-by-project basis.
Sheehan joined the University of Florida in 2011 as director of the nascent 21st Century News Lab and a member of the Journalism Department faculty.  The Lab evolved into the Innovation News Center, which Matt helped architect and has led since its launch in 2012.  Prior to joining UF, he was COO of a media startup, a former assistant news editor at The Washington Post and worked in administration at University of Maryland's Philip Merrill College of Journalism.
For more on Sheehan's perspective on news and news operations, visit his Medium publication.
Posted: May 17, 2016
Category: College News
Tagged as: Matt Sheehan