Linda Hon Honored with Milestones in Mentoring Educator Award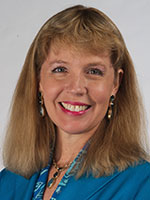 University of Florida College of Journalism and Communications Public Relations Professor Linda Childers Hon will receive the Milestones in Mentoring Educator Award from the Plank Center for Leadership in Public Relations.  The award will be presented at an induction ceremony in Chicago on Nov. 10, 2016.
Established in 2010 to recognize those who lead by example, the "Milestones in Mentoring" honorees are selected by their peers and the Plank board in six categories: Legacy, Executive, Corporate, Agency and Educator. The Plank Center, housed at the University of Alabama, was named for public relations leader and UA alumna, the late Betsy Plank. The Center develops and recognizes outstanding diverse public relations leaders, role models and mentors to advance ethical public relations in an evolving, global society through a variety of initiatives.
The Educator Award honors educators who have been instrumental in mentoring students and future educators. This award is named in honor of Dr. Bruce K. Berger, an exceptional public relations leader and educator.
Posted: May 11, 2016
Category: College News
Tagged as: Linda Hon