Two Telecommunication Students Nominated for National Student Emmy Award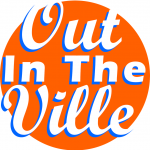 University of Florida College of Journalism and Communications students Kelbin Ramirez, B.S. Telecommunication 2015, and Tanai Milgram, B.S. Telecommunication 2015, have been nominated for a Television Academy Foundation student Emmy Award. "OutintheVille" was recognized in the 37th Annual College Television Awards "Series-Unscripted" category.
"OutintheVille" features a student-run reality food series that provides the inside scoop on the best dishes and local eateries in the Gainesville area. The series began as a summer project in adjunct lecturer Iman Zawahry's Electronic Field Production class. Telecommunication Professor Tim Sorel encouraged the students to enter the national competition.
Designed to emulate the Emmy judging process, entries are reviewed by active Television Academy members. Students submit their pieces through an online platform and undergo a three-round judging process. In the third and final round, first, second and third place awards are determined. Winners in all categories receive cash awards and are flown to Los Angeles.
Posted: March 14, 2016
Category: College News, Student Awards