College Awards $10K Frank Research Prize to Oregon, Duke Professors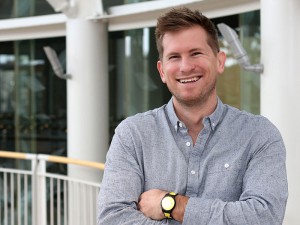 The University of Florida College of Journalism and Communications today awarded its $10,000 grand prize in public interest communication to Dr. Troy Campbell, assistant professor of marketing, Lindquist College of Business, University of Oregon and Aaron Kay, professor at The Fuqua School of Business, Duke University.  The research prize, which celebrates peer reviewed research that informs this growing discipline, was awarded during frank, the premier gathering for social change communicators and movement builders.
Drs. Campbell and Kay were awarded the prize based on their research on "solution aversion" relating to contentious topics such as environmental degradation and climate change. Their model shows that one must address denial that stems not just from basic fear but from complicated psychological motives such as ideology and identity.
Two $1,500 prizes were also awarded.  Dr. Jeff Niederdeppe, associate professor, department of communication, Cornell University, won for research that examines a variety of theory-based message strategies designed to offset resource imbalances in the debate about the pros and cons of regulating the marketing of soda, cigarettes, and prescription painkillers. Dr. Julia Daisy Fraustino, assistant professor of strategic communication at West Virginia University, and Liang Ma, doctoral candidate in communication at the University of Maryland, won for "Preparedness 101: Zombie Apocalypse", research that places a spotlight on defining and evaluating the effectiveness of social change communication strategies surrounding risks and disasters.
The prizes are awarded from the College's Frank and Betsy Karel Fund for research that contributes to the understanding of the public interest communication field as a unique discipline, offers insight that can improve the effectiveness of public interest communication practice, details a specific public interest communication campaign, explores evaluative measures, documents specific ways in which public interest communication differs from similar disciplines, or provides insight on how to communicate effectively.
The College, which has the nation's only endowed chair in public interest communication, is developing public interest curriculum at the graduate and undergraduate level, supporting social change communication research and fostering a community of social change communicators and movement builders. The chair, held by Professor Ann Christiano, is endowed by Frank and Betsy Karel.
About Public Interest Communication
Public interest communication is a growing discipline that uses science-based, strategic communication to drive positive social change on issues like education, better health and climate change. It draws principally on the disciplines of public relations, advertising, marketing, journalism, sociology, communication, psychology, public health, and political science.
While public interest communication has been practiced for decades and has contributed significantly to health and well-being throughout the world, it is only recently recognized as a unique academic discipline and profession.
About the University of Florida College of Journalism and Communications
The University of Florida College of Journalism and Communications is driving innovation and engagement across the disciplines of advertising, journalism, public relations and telecommunication. The strength of its programs, faculty, students and alumni — in research and in practice — has earned the college ongoing recognition as one of the best in the nation among its peers. The college offers bachelor's, master's and doctoral degrees and certificates, both online and on campus. The college's strength is drawn from both academic rigor and experiential learning. CJC students have the opportunity to gain practical experience in the Innovation News Center, which generates content across multiple platforms, and The Agency, a public relations and advertising agency that began operation in 2015. The college includes seven broadcast and digital media properties and the nation's only program in public interest communication.
Posted: March 10, 2016
Category: College News
Tagged as: frank, Frank Prize, Public Interest Communications